One of the UK's largest pension investors has appointed its first chief investment officer as part of an ongoing restructure of its leadership team.
RPMI Railpen – the £28bn (€32bn) in-house manager of the industry-wide scheme for UK railway companies – today announced Richard Williams as its CIO. In addition, Paul Bishop has been named head of private markets. Both are newly created positions.
Both Williams and Bishop were previously investment directors responsible for leading the group's investment teams. Together with outgoing investment director Ciaran Barr and ex-CEO Chris Hitchen, they led an extensive overhaul of the scheme's investment strategy, including an insourcing programme and a strategic shift away from asset class silos.
Williams said: "I am excited to have the opportunity to lead our investment team at a time when we are continuing to grow our investment capabilities. As a leading global institutional investor, we are in a strong position to use our experience to help influence positive change across the investment industry, while continuing to deliver for our members."
Williams joined Railpen in 2014 from BlueCrest Capital Management, where he was a portfolio manager. He also worked at BNP Paribas Asset Management – latterly as CIO – and Deutsche Bank .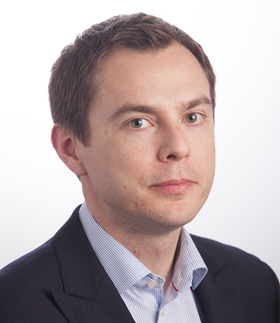 Bishop joined Railpen in 2011 from insurance group Royal Liver where he worked since 2006, latterly as CIO.
The appointments follow 18 months of staff changes across Railpen's operations, including the departure of Hitchen last year, who was replaced by Philip Willcock in February.
At the time of Willcock's appointment, announced in December last year, Railpen said it had completed its executive leadership team changes.
Railpen's staff changes
| Date | Staff | Details |
| --- | --- | --- |
| January 2017 | Anna Rule | Hired from Aviva Investors as head of property |
| January 2017 | Deborah Gilshan | Head of sustainable ownership exits for senior stewardship position at Standard Life |
| February 2017 | Julian Cripps | Chief operating officer since 2015 shifts to managing director of investment business |
| February 2017 | Matthew Howard | Joins from Market Tech as head of property asset management |
| March 2017 | Leo George | Appointed as new head of sustainable ownership, having first joined in 2009 |
| April 2017 | Steve Mitchell | Hired as compliance and risk director for the investment business |
| May 2017 | Chris Hitchen | Railpen announces its CEO will leave after 20 years with the group, once a replacement is found |
| June 2017 | Paul Nathan | Appointed as chief operating officer after holding similar roles at Old Mutual Global Investors and Church Commissioners for England |
| July 2017 | Chris Hitchen | Former CEO announced as chair of LGPS pooling vehicle Border to Coast |
| September 2017 | Jocelyn Brown | Joins from International Shareholder Services as senior investment manager in Railpen's sustainable ownership team |
| September 2017 | Alastair Dawson, Richard van Lente | Hired as senior property asset managers from CBRE and Market Tech, respectively |
| November 2017 | Paul Sturgess | Joins from Equiniti to become managing director of administration business |
| November 2017 | David Maddison | Moves from deputy CEO to managing director of Railways Pension Scheme |
| December 2017 | Philip Willock | New CEO appointed from Aviva – scheme says executive leadership changes are over |
| January 2018 | Ciaran Barr | Railpen announces investment director will depart in first half of 2018 after nine-year tenure |
| April 2018 | Richard Williams | Investment director becomes Railpen's first chief investment officer |
| April 2018 | Paul Bishop | Investment director named head of private markets, also a new role |