BT Pension Scheme, AXA IM, Jupiter, HSBC AM, Ircantec, CFA Institute, S&P, Man GLG, Bluebay, Mercer
BT Pension SchemeManagement – The asset management firm that manages the £57bn BT Pension Scheme (BTPS), has appointed Terence Nahar as head of investment research and Emma Douglas as senior stewardship analyst in two newly-created roles within the funding and fiduciary services team.
The appointments will help BTPS implement its 2035 net zero strategy and support the scheme's work to reduce its investment risk towards a cash-flow matching self-sufficiency portfolio, helping the scheme meet members' pension promises.
Nahar will focus on top-down investment strategy, quantitative analytics and portfolio design. He joined from Abrdn and previously worked at Royal London Asset Management, Goldman Sachs and McKinsey & Co.
Douglas will work with Victoria Barron, BTPSM's head of sustainable investment, responsible for supporting the scheme's stewardship activities as part of its responsible investment strategy. She joins from LCP where she helped clients integrate ESG factors and stewardship considerations into their investment decision making.
---
S&P Global Sustainable1 – Fred Samama, a leader in ESG investing, has left Amundi Group to join S&P Global Sustainable1 as head of strategic development. S&P Global Sustainable1 is the "central source for sustainability intelligence from S&P Global".
Samama was with the Amundi group for more than 10 years. Most recently he was chief responsible investment officer at its CPR Asset Management subsidiary, having before then been head of responsible investment at Amundi itself. He joined Amundi in 2009 as head of financial solutions US.
He has co-authored significant papers on climate and ESG investing, including "The Green Swan: Central Banking and Financial Stability in the Age of Climate Change" and has been a pioneer of low-carbon indices. A new paper on net-zero carbon portfolio construction has been accepted by the Financial Analysts Journal.
"I am thrilled to join S&P Global Sustainable1," he said. "With more than half the world's assets under management committed to net zero, we have seen a huge rise in the mobilisation of the finance sector on climate, investors and companies are increasingly employing ESG analytics and insights to inform their decision making. It is essential they have access to the most rigorous and credible data and tools to support their decision making to support the realisation of their commitments."
Richard Mattison, president of S&P Global Sustainable1, said Samama's experience and knowledge would "bring an additional layer of critical capability to support the continued growth and success of our portfolio of ESG insights and solutions".
Launched in April 2021, Sustainable1 brings together S&P Global's resources and full product suite of data, benchmarking, analytics, evaluations, and indices.
---
Man GLG – Sriram Reddy has recently joined Man GLG as managing director for credit and is responsible for representing the firm's range of credit strategies to clients and prospects across the globe. This is a newly-created role and Reddy joins from Schroders.
In this role Reddy will be responsible for coordinating the business and product development, marketing and client service efforts of the Man GLG credit platform across both long and only and alternative strategies.
Reddy worked as an investment director at Schroders focused on European and global credit strategies. He spent over a decade at BlackRock, joining what was originally Barclays Global Investors in 2005, where he has built experience in portfolio management and institutional sales.
---
BlueBay Asset Management – RBC Asset Management's specialist fixed income manager, BlueBay Asset Management, has further expanded its business development team with the appointment of Kornelis Buursma as director, business development, reporting into Viola Patock, head of Northern Europe. Kornelis will be based in Amsterdam and will cover the Benelux region as part of the wider Northern Europe team.
The appointment of Kornelis follows several other appointments in Northern Europe in 2021, reinforcing BlueBay's commitment to strengthening its presence in the region.
Patock said: "Kornelis has great experience within business development roles. He has extensive knowledge of the asset management landscape and is very familiar with the needs of institutional and wholesale investors. His addition will help us further support our clients and expand our business in this important region."
Before joining BlueBay, Buursma spent almost six years working in the Dutch institutional market at Kempen Capital Management, where he was director of institutional relations in The Netherlands. Prior to this, he worked in similar roles at NN Investment Partners, PGGM Investments and ING Real Estate Investment Management.
---
AXA Investment Managers – The firm has hired Magda Branet as head of emerging markets and Asian fixed income. Based in London, She brings 17 years of experience in emerging market debt, along with a strong ESG integration expertise, and returns to AXA IM after managing money at First State Investments and at Candriam, where she was deputy head of emerging markets and lead portfolio manager of the total return and sustainable emerging market debt strategies.
Branet reports directly to Marion Le Morhedec, global head of fixed income.
---
Mercer Germany – The consultancy has hired André Geilenkothen as the head of its pension funding consulting division. Geilenkothen appointment will support the further expansion of the firm's pension services particularly in terms of funding.
Geilenkothen is also expected to join the management board of Mercer Pensionsfonds. He served at Aon for over 12 years as a principal, partner and member of its executive board.
---
Jupiter Asset Management – Sandra Carlisle has been appointed as head of sustainability, leading the asset manager's newly established corporate sustainability function. In this new role, Carlisle will be responsible for structuring and implementing Jupiter's sustainability strategy across the organisation.
The corporate sustainability team will take responsibility for implementing and driving Jupiter's cohesive sustainability strategy across the company's dual corporate and investment footprint. The team will partner with all business areas to further integrate sustainability, driving external engagement with clients, collaborating with external bodies and supporting best practice outcomes at an industry level as well as developing additional targets and reporting to support the company strategy. The team will be led by Carlisle with the support of a new corporate sustainability manager.
Carlisle joins from HSBC Asset Management where she was global ESG lead for the institutional business since 2017, a role which covered client and business strategy across insurance, sovereign wealth and pension funds. Prior to this, she was head of responsible investment at Newton Investment Management where she managed the global ESG research team across equities, fixed income and multi-asset strategies. She also spearheaded the company's investment stewardship and public policy work.
Carlisle's experience spans three decades across public and private markets in leading global investment banks and the asset management industry, with 16 of these years dedicated to the field of responsible investment and ESG, including three years as a board member of the UN PRI.
---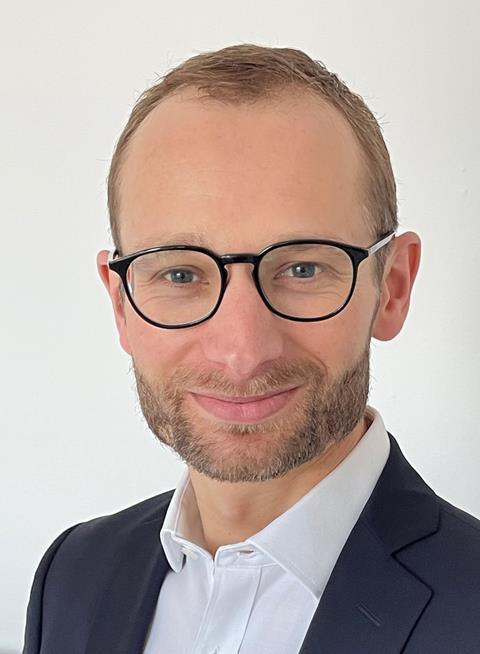 HSBC Asset Management – John Dewey has been appointed as head of alternative solutions, HSBC Alternatives. He will initially be based in London and will report to Joanna Munro, CEO of HSBC Alternatives.
In this newly-created role, Dewey will be responsible for leading business development for HSBC Alternatives, working with the alternatives business heads and the asset management sales teams. Given the expansion of HSBC AM's activities in Asia, the intention is for Dewey to relocate to Singapore later this year to take on the additional role of regional head of alternatives – subject to regulatory approval.
With 20 years' experience in the investment industry, Dewey joins from Aviva Investors where he was most recently deputy CEO, Aviva Investors France. He joined Aviva Investors as head of investment solutions in 2016. Prior to that, he held investment roles at BlackRock and Mercer.
---
Ircantec – Laetitia Tankwe, adviser to the chair of the French public pension scheme, is leaving to become head of sustainability implementation at HSBC Global Asset Management.
Tankwe was appointed to the PRI board as an asset owner representative in late 2018. She is also a member of the board of directors of FIR, the French responsible investment forum. Ircantec did not say who would be willing Tankwe.
---
CFA Institute – The global association of investment professionals has named Paul Moody as managing director, regions, marketing, and societies, effective 21 February.
Moody will oversee the organisation's regional staff, society relations' teams, and marketing and customer experience group. This represents a newly-created role at CFA Institute. He will report to Margaret Franklin, CFA, president and chief executive officer, and will be based in London.
Moody's experience includes more than 20 years at Aviva Investors where in his last role he served as client solutions director. In that capacity, he was responsible for leading a global team, developing relationships, and partnering across Aviva's global businesses. Moody had ownership of strategic partnerships, business strategy, and execution of the client solutions business plan. Other roles include positions at Henderson Global Investors and NPI.