SEI, Standard Life Aberdeen, APG, Insticube, SSGA, Morningstar, Dutch Pensions Ombudsman, Russell Investments, Schroders, Robeco, AMX, MEAG, Avida, Investment20/20
SEI – Patrick Disney is to retire from the fiduicary management specialist at the end of March 2019 after nearly 20 years at SEI. Ian Love will take over Disney's role as head of institutional for Europe, the Middle East and Africa (EMEA). Disney will continue to work in an advisory role for SEI, the company said.
Disney joined the company in 1999 from Morgan Grenfell, part of Deutsche Asset Management. He helped set up SEI's London office and establish the company in the UK's fiduciary and master trust markets.
Love has worked for SEI for 15 years and directly with Disney for six years in the institutional business.
SEI has also appointed Charles Marandu as head of client strategy for EMEA and Asia, succeeding Nigel Down who is also retiring.
---
Standard Life Aberdeen – The parent company to Aberdeen Standard Investments has named Sir Douglas Flint as a non-executive director and its next chairman. Sir Douglas joins the board effective today, and will succeed Sir Gerry Grimstone as chairman on 1 January.
Sir Douglas was group chairman of HSBC Holdings from 2010 to 2017, having previously been the bank's group finance director and chief financial officer. He chaired the Institute of International Finance for four years and currently chairs the board of technology company IP Group. He is also a special envoy to China on behlaf of the UK treasury department, focusing on China's 'Belt and Road' initiative.
Sir Gerry has chaired Standard Life Aberdeen – and Standard Life before its merger last year – for 11 years. He oversaw the merger with Aberdeen Asset Management and its shift from an insurance company to one of Europe's biggest investment companies.
---
APG – The €485bn asset manager and pensions provider APG has appointed Francine van Dierendonck as the fifth member of its executive board as of 1 November.
She will be responsible for member and employer services, a new position created to support the expected changes to the role of members and employers in an expected new pensions system. Key elements of the new portfolio include providing information, advice and support, and she will also be responsible for innovation and ventures.
Van Dierendonck joins from webshop Xenos, where she was chief executive for the past two years. She started her career as a strategy consultant at Boston Consulting, and has worked as marketing director at eBay, senior director for digital strategy at Philips, and chief commercial officer and chief investment officer at Etam Group.
---
Insticube – Asset manager research platform Insticube has hired Jan Kehrbaum as head of technology and product development. He joined the company last month, and will oversee the development of its databases for managers for use by asset owner subscribers.
Kehrbaum spent several years working on quantitative trading studies, and later was in charge of product development in the capital markets divisions of a number of banks and investment boutiques. He also worked for more than 15 years as a partner at consulting groups KPMG and EY, advising asset managers, banks and insurers.
Insticube is a pan-European research platform for asset owners to rate and assess their asset managers, and is supported by IPE.
In addition, Insticube has hired Chelsie Doyle from investment consultant bfinance as head of business development for the UK and Ireland. She will be the Munich-headquartered company's first UK-based employee.
---
State Street Global Advisors – SSGA has hired Jeremy Rideau as head of liability-driven investments (LDI) for its fixed income, cash and currency team in EMEA. He was previously head of solutions fund management at Legal & General Investment Management.
In this newly created role, Rideau will be responsible for managing LDI portfolios and developing new strategies, SSGA said.
---
Morningstar – The investment research house has appointed Mark Roomans as head of EMEA. He is currently CEO for Morningstar in the UK, and has worked for the company since moving from JP Morgan Asset Management in 2001.
During his 17-year career at Morningstar Roomans has held a number of senior positions, including CEO of Morningstar in Australia, Spain and Switzerland at various points, and chief operating officer of Morningstar Europe. He also helped set up the company's offices in several countries in South America.
Daniel Dunn, the company's chief revenue officer, said Morningstar wanted to "link our regional markets with our global functions and business lines" as it plotted a global growth strategy. The research firm bought 40% of ESG data provider Sustainalytics last year, and the start of October it struck an agreement with consultancy group Mercer to create a manager research platform.
---
Dutch Pensions Ombudsman – The Dutch Social and Economic Council (SER) has appointed Henriëtte de Lange as the new ombudsman for pensions, to act as an independent intermediator for disputes about the implementation of pension funds' rule books. She will succeed Piet Keizer, who has been in the job since 2003.
De Lange's powers will be extended, allowing her to also name pension funds as well as conducting independent investigations. Her appointment is for a five-year period, with the option of an extension for another five years. The ombudsman handles 600 complaints annually on average.
Currently, De Lange is chair of the €138m pension fund HaskoningDHV as well as a member of the supervisory boards of PDN, the €7bn scheme of chemicals firm DSM, and the €537m sector pension fund for the wood-processing sector. She will step down from these positions later this year.
In 2004, De Lange was one of the founders of Stichting Pensioenkijker, a foundation aimed at making pensions comprehensible to consumers, and remained its spokesperson for seven years. The Dutch Pensions Federation praised De Lange for her "great ability to empathise with pension fund participants, to translate complicated pension issues into clear communication as well as to solve problems".
---
Russell Investments – The US asset management giant has named Jennifer McPeek as chief financial officer, the fourth senior management addition Russell has made this year.
McPeek was previously CFO and chief operating and strategy officer at Janus Henderson Investors in the US. She joined Janus in 2009 from ING where she was head of strategic planning.
Over the summer, Russell brought in Rick Smirl as COO, Bob Hostetter as head of product strategy and development, and Gene Raffone as chief human resources officer.
---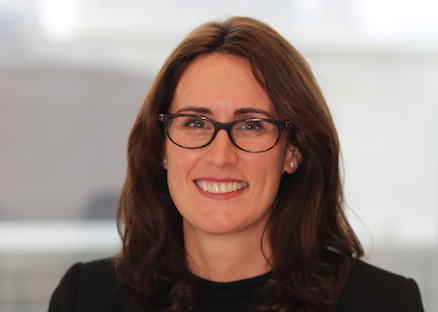 Schroders – Lesley-Ann Morgan has been appointed head of multi-asset strategy at the UK-listed asset manager, effective today.
In the newly-created role, Morgan will be responsible for Schroders' global multi-asset client relationships and "strategic partnerships", and will work alongside global head of multi-asset investments Johanna Kyrklund.
Morgan joined Schroders in 2011 from Willis Towers Watson and was most recently the asset manager's global head of retirement and defined contribution. This role will be taken on by Neil Walton, head of investment solutions.
---
Robeco – The €167bn asset manager has hired Ed Collinge as global head of insurance strategy, a newly created role. He joins from Invesco where he was in charge of the company's European institutional insurance team.
Collinge will work with Robeco's teams based around the world to develop investment strategies for the company's insurance clients.
Before joining Invesco, Collinge led the global insurance solutions team at JP Morgan Asset Management, and he has held senior insurance investment roles at Legal & General and Lehman Brothers.
---
AMX – Willis Towers Watson's asset management platform has hired Aaron Overy as head of client and manager development. He joins from Northern Trust where he was senior vice president of asset management.
The company, which offers ready-built back office systems and services to hedge funds and boutique managers, has also hired Celia Larkin from Standard Life Aberdeen as manager development director, and Elaine Russell from Mercer as senior client service manager.
AMX was launched two years ago and has nearly $7bn (€6.2bn) of assets, according to the company.
---
MEAG Munich Ergo – The German asset manager has appointed Wolfgang Wente as a managing director with responsibility for real estate. He will join the firm on 1 March 2019.
Wente has worked at MEAG since 2006, and previously ran money for both insurance group Munich Re and for Ergo Trust, both of which combined to form the €251bn asset manager MEAG.
---
Avida International – Karin Roeloffs has started work at the asset management consultancy group as an associate adviser.
She was previously head of Mercer's Netherlands team, a position she held for seven years. She has also worked at APG Asset Management, where she led the team of client portfolio managers, and at ABN Amro, where she held various positions in the investment banking and asset management parts of the business.
---
Investment 20/20 – The Investment Association, the trade body for UK asset managers, has expanded the scope of its Investment20/20 project aimed at attracting a more diverse range of young people into the sector.
The project has now signed up 21 universities across England, many of which it said were at the top of a ranking for social inclusion.