The manager of Norway's sovereign wealth fund and several other major investors have joined the investor group advising the Sustainability Accounting Standards Board (SASB).
Fifteen additional asset owners and asset managers have become members of the group, SASB announced today.
The new members are: AXA Investment Managers, Brunel Pension Partnership, Canada Pension Plan Investment Board, Fidelity Investments, Franklin Templeton Investments, Harvard Management Company, Hermes Investment Management, Legal & General Investment Management America, Neuberger Berman, Nissay Asset Management, Norges Bank Investment Management (NBIM), Putnam Investments, and Schroders.
Barbara Zvan, chief risk and strategy officer of Ontario Teachers' Pension Plan, has been named the investor group's new chair, replacing Chris Ailman, CIO of CalSTRS, who has been named chair emeritus.
SASB said the developments "reflect the growing relevance of SASB's sustainability accounting standards for global institutional investors".
Carine Smith Ihenacho, chief corporate governance officer at NBIM, said the manager welcomed SASB's work in developing industry-based standards for improved sustainability reporting.
Echoing NBIM's responsible investment wish for 2019, she said: "We urge for standardised, concrete and relevant sustainability data and we ask companies to go from words to numbers – because what gets measured gets managed."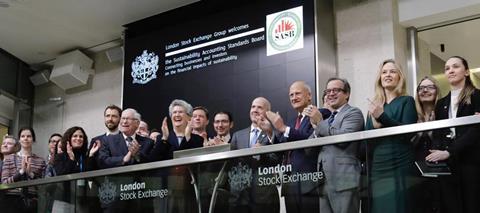 The investor advisory group now counts 44 members from countries in Asia, Europe and North America, with $33trn (€29.6trn) in assets under management between them. It was established in October 2016, with 14 founding members. It provides investor feedback and guidance to SASB and is also intended "to demonstrate investor support for a market standard for investor-focused sustainability disclosure".
SASB is one of a number of organisations working on non-financial corporate reporting, but describes its standards as unique because of their industry focus, their emphasis on communicating to investors, and their focus on financial materiality.
In November it published 77 industry-specific sustainability accounting standards. State Street Global Advisors has used SASB standards for a new system of scoring companies' environmental and social practices that it believes could mark a breakthrough for capital markets' integration of sustainability considerations.