Politicians urgently need to pass reforms to address the harm done to the Swiss pension system from sustained negative interest rates, a group of pension bodies in the country has said.
Their joint call followed a decision by the Swiss National Bank (SNB) to leave its main policy interest rate unchanged at -0.75%.
In a statement, ASIP, Switzerland's occupational pension fund association, KGAST, the body for collective pension investment foundations, and VVS, a third pillar association, said they observed with growing concern that there was no end in sight for negative interest rates, while urgently needed pension reforms remained pending.
On top of a "reform backlog" and increasing longevity, negative interest rates since 2015 were leading to growing performance losses in the second and third pillars, they said.
"Instead of securing the level of pensions with reforms, politicians are watching how negative interest rates further reduce the liquid retirement assets that are held," they said.
Negative interest rates had a direct impact on the performance of Pensionskassen, investment foundations, and other pension entities, they added.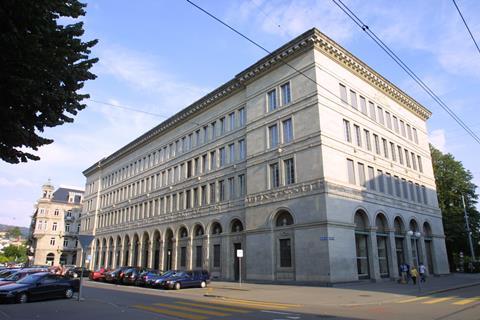 Pension providers and investment foundations also had to deal with the burden of stamp duty and value-added tax.
"The associations follow these developments with concern and call on politicians and the authorities to urgently reflect on the burden imposed on the pension system by negative rates and diverse taxes, and to introduce reforms," the associations said in their statement.
Swiss government bond yields are also in negative territory, which led consultancy firm Willis Towers Watson to warn earlier this month that Swiss funds could be force to adopt a negative discount rate for liabilities for the first time. This could push up liabilities by as much as 15%, the company said.
SNB decision 'continues to affect investors'
The SNB said an expansionary monetary policy continued to be necessary in light of "the latest international developments" and a lower inflation outlook in Switzerland.
Although it kept its key interest rate unchanged, SNB increased the exemption threshold above which commercial banks who park their money with the central bank have to pay negative interest.
It said this move "takes account of the fact that the low interest rate environment around the world has recently become more entrenched and could persist for some time yet".
Sophie Casanova, central bank economist for Edmond de Rothschild Group, said: "Like the other major central banks, the SNB has relaxed its monetary policy even though it has not yet touched its key interest rate.
"While it has lowered the cost of negative interest rates for banks, Swiss bond yields remain negative across the entire yield curve, so investors continue to be affected."
Switzerland has the lowest base interest rate in the world, and is one of four countries to have adopted a negative rate.