The trustees of the Littlewoods Pensions Scheme (LPS) have sealed an £880m (€1bn) pensioner buy-in deal with Scottish Widows in the latest sign of an increasingly buoyant bulk annuity transfer market.
Under the terms of the transfer, the risks associated with 60% of the scheme's liabilities have passed to the Edinburgh-based life insurance and pension company, which will now provide a monthly income to the trustee on behalf of the fund's approximately 7,000 members.
The move represents Scottish Widows' largest bulk annuity transfer to date. So far the insurer has completed 17 deals, accounting for more than 25,000 pension scheme members.
Colin Thwaite, chairman of the trustees for the scheme, said: "The attractive pricing of the transaction has closed the gap to being fully funded and further reduces the risk profile of our investments to meet members' pensions."
Consultancy firm LCP, which advised the Littlewoods trustees, said the deal would help to improve the scheme's funding position as well as helping to reduce its downside risks.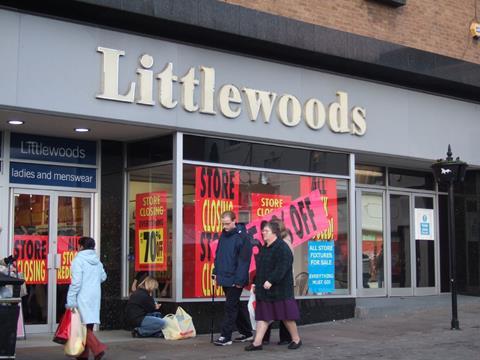 "Our role as specialist adviser is to get the focus of insurers who are choosing where to allocate their best pricing," said David Stewart, partner at LCP. "The pricing negotiated surpassed the trustee's original expectations and moves them significantly forwards towards full de-risking."
More than £19bn of bulk annuity transfer deals, longevity swaps, buy-ins, and buyouts have been struck so far this year, according to JLT Employee Benefits. The figure is fast approaching the total £21bn worth of transactions realised in 2017. A decade ago approximately £8bn was transferred, with the market peaking in 2014 at £34bn.
This year's tally was boosted significantly by Rothesay Life's £12bn acquisition of part of Prudential annuity book in the first quarter.
There has also been a series of transfers in excess of £1bn struck in the early months of 2018, including the £2bn National Grid Electricity Group longevity swap with Zurich and Canada Life Re; and the £1.4bn Marks and Spencer buy-in deal, which was split between Aviva and Phoenix.
JLT said that the average transfer size had also risen since 2017. "Deals executed last year ranged from £100m-£900m, with no individual transaction exceeding £1bn," the company said.
"Current insurer pricing is providing an attractive entry point for schemes across the market, with improving funding levels and rising sponsor interest feeding trustee demand."
Transactions announced in 2018:
| Date | Scheme / Firm | Insurer | Size (£m) | Type of transaction |
| --- | --- | --- | --- | --- |
| Feb-18 | | Zurich/Canada Life Re | 2,000 | Longevity swap |
| Feb-18* | WPP (five schemes) | PIC | 140 | Buyout |
| Feb-18* | | Rothesay Life | 450 | Buy-in |
| Feb-18* | Sea Containers 1983 Scheme | Aviva | 190 | PPF+ |
| Feb-18 | Unnamed scheme | L&G | 150 | PPF+ |
| Mar-18 | Prudential | Rothesay Life | 12,000 | Bulk annuity back book |
| Apr-18 | | PIC | 209 | Buy-in |
| May-18 | | Rothesay Life | 170 | Buyout |
| May-18 | | Aviva | 925 | Buy-in |
| May-18 | Marks & Spencer | Phoenix | 475 | Buy-in |
Source: JLT Employee Benefits
* Although announced in February 2018, transactions marked with an asterisk traded in the second half of 2017