Dutch pension managers APG and PGGM say they have identified investment opportunities linked to 13 of the United Nations' 17 Sustainable Development Goals (SDGs).
The results of the research – which the investors have referred to as "taxonomies", or classifications – demonstrated areas they consider potential "sustainable development investments" (SDIs), bridging the gap between the UN's targets and tangible investment opportunities.
Claudia Kruse, managing director for responsible investment and governance at APG Asset Management, told IPE the "taxonomies" were designed to provide "clear guidance on what type of investments qualify as SDIs".
"The taxonomy is by no means perfect yet," she said. "A lot of work and thought has gone into it but what we are really hoping is that it is the start of an in-depth conversation between asset owners on how we can take this further as we gain more and more experience implementing this in our portfolio."
The intention was to "kickstart the conversation about a market standard for SDIs", said Kruse.
The managers of the €389bn Dutch civil service pension scheme ABP and €187bn healthcare scheme PFZW identified 13 investable SDGs, with two deemed not investable, and two deemed potentially investable.
SDG #16, for example, which refers to "peace and justice, strong institutions", was deemed not investable by APG and PGGM, as they said it was "not possible to contribute to this goal through investment activity".
However, within SDG #11 ("sustainable cities and communities"), for example, the investors identified potential areas of investment including "public transport, rail [infrastructure], transport sharing" and "traffic management systems, vision and sensor systems, airbags".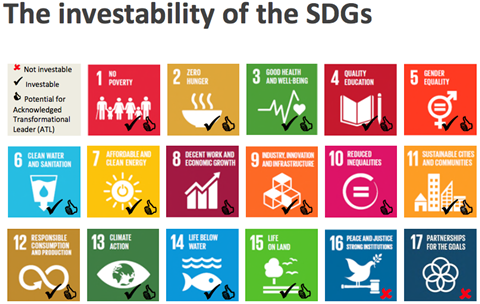 More detailed guidance is under development but has not yet been published.
Wider asset owner backing
APG and PGGM have shared the taxonomies and supporting guiding materials with several other institutions. Sweden's four main buffer funds and Australia's Construction and Building Unions Superannuation fund are said to have explicitly expressed their support.
Kruse said APG and PGGM believed the guidance was the first to come from asset owners that are private market entities.
Els Knoope, senior responsible investment and governance specialist at APG, said the intention was to share the work with external managers to encourage the development of investment opportunities meeting APG's and PGGM's standards.
"We already see some proliferation of products being developed at the moment that maybe are not as close to what we intend, so we really hope that sharing this work and further developing it will help," Knoope said.
She also hinted that accountability to beneficiaries was a consideration fuelling the work on the taxonomies.
"We want to speak the same language to ensure it's as close as we can get to what our ultimate beneficiaries aim for with this approach," she said.
Kruse and Knoope both emphasised that a lot of judgement was involved in deciding whether an investment can be labelled an SDI. The work done by APG and PGGM could serve as a standard for guiding that judgement, they said.
APG and PGGM had a commitment to invest in "solutions to sustainability challenges" before the launch of the SDGs at the end of 2015. At this time, ABP, APG's main client, set a target of doubling its allocation to what were called then "high sustainability investments" by 2020, from €29bn to €58bn.
Over the course of 2016 APG worked with PGGM, whose clients have also made commitments to sustainability investments, to align their definitions of these investments with the SDGs. In September 2016 they and other Dutch asset managers and the Swedish buffer funds published a statement setting out their commitment to invest in line with the SDGs.