The UK asset manager trade body has launched a self-assessment framework for its members in an effort to improve workplace culture within the investment industry.
The Investment Association (IA) – the lobby group for the UK's £7.7trn (€8.7trn) asset management industry – teamed up with law firm Latham & Watkins to produce the 'Culture Framework', involving a "comprehensive tool kit" to help companies monitor factors that influence corporate culture.
The report follows the expansion of the Senior Managers and Certification Regime (SMCR), a regulatory drive by UK regulators to address cultural issues within financial services firms that could lead to rule breaches.
The Financial Conduct Authority and Prudential Regulatory Authority brought in the SMCR last year for banks and insurers. Other areas – including asset managers – will be subject to the new rulebook from 9 December this year.
The IA said its framework would help firms address cultural issues "in a meaningful and holistic manner", including by:
defining culture using a set of values that support the overall business strategy;
measuring culture in a qualitative and quantitative way, including factors such as diversity and inclusion, effective leadership and psychological wellbeing;
benchmarking existing culture and conduct risk and assessing this at division, department and desk level; and
monitoring cultural direction over time through surveys and reviews.
Pauline Hawkes-Bunyan, director of business, risk, culture and resilience at the IA, said: "Culture is the central ingredient that creates a positive environment where people look forward to coming to work, feel valued and do their best work.
"Although we know a healthy culture when we see one, it is important that we are able to define, measure and evaluate it over time as creating a healthy culture is not a one-off project, but a central plank to business' productivity and success."
Manulife opens Ireland office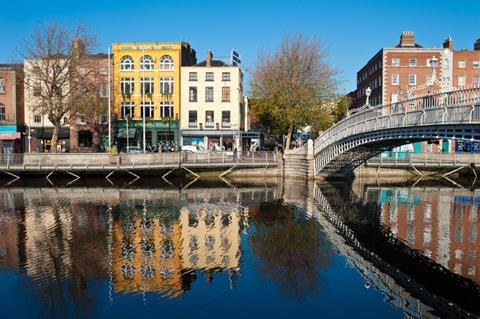 Canadian asset manager Manulife Investment Management has opened an office in Dublin as part of a planned expansion in Europe, as well as a means of mitigating Brexit-related risks.
In a statement this week Manulife said it had appointed Angela Billick as chief operating officer and head of the Ireland office. She is currently head of European investment product for Manulife Wealth & Asset Management, a role she will continue to hold.
The asset manager – which runs €318.2bn according to IPE's 2019 Top 400 Asset Managers survey – has also brought in Mary Cahill as investment officer and Fergal McIntyre as financial controller.
Cahill was previously head of global investment selection at Davy Asset Management, while McIntyre was most recently financial controller at Anima Asset Management.
Manulife said the Dublin office would help provide oversight for the company's UCITS fund platform as well as help mitigate the risks associated with Brexit. A number of asset managers with operations in the UK have set up new offices in other EU states ahead of the UK's expected departure from the bloc.
Andrew Arnott, head of Manulife Investment Management in the US and Europe, said: "Growing our European presence to meet the potential of the market continues to be a priority, and the establishment of our Dublin office will better serve the needs of our customers at a global scale."
Billick added: "This strategic location will enhance our ability to engage with our partners across multiple geographies. I look forward to collaborating with our dedicated global team to deliver our diverse investment solutions to investors."