ESG capabilities will be a key differentiation factor for fiduciary management business flows, according to a survey of managers carried out by IPE this autumn.
Almost a third (32%) of managers cited ESG as the main driving factor, followed by price (22%) and access to external managers in illiquid/alternative markets (15%).
A large majority of participants, which included Russell Investments, SEI and Mercer, believe the volume of fiduciary management tenders in Europe will increase in the next 12 months.
A little over 70% said such tenders would increase, while only 8% said they would decrease; 21% of participants believed the number of fiduciary management mandates would not significantly increase.
Participating managers have won €131.7bn in new fiduciary mandates so far in 2021.
BlackRock, another participant in the IPE survey, also thinks 8-10 of the largest schemes will consider fiduciary in the next five years.
"Based on experience to date, we can expect at least 100 pension schemes every year to appoint an outsourced provider for the first time. For the pensions industry this is a rapid rate of change," said Sion Cole, head of UK fiduciary business at BlackRock.
The survey also showed that 39% of participants believe the main business driver will be completely new tenders, while 13% said it would be through retendering of existing contracts.
Compared to the previous year, does your firm believe the volume of fiduciary management tenders in Europe in the next 12 months will: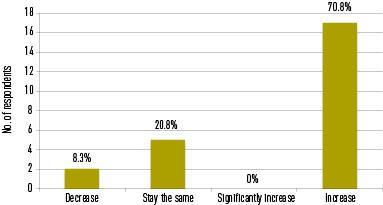 Results also showed that 48% of those surveyed said increased demand for such tenders would be driven by both new and existing mandates in equal measure.
Most UK defined benefit (DB) schemes using fiduciary management saw their fees for the service reduce, largely driven by high retender activity linked to an order from the country's competition watchdog following a review of the market, according to Isio and its latest annual fiduciary management survey.
The IPE survey analysed a combination of asset managers and consultancies that offered fiduciary management services, with a total of 24 respondents. For more information about IPE's 2021 European Invesmtent Solutions and Fiduciary Management market survey please contact dominic.gane@ipe.com.
Looking for IPE's latest magazine? Read the digital edition here.