IPE's 2021 asset management study finds global managers hold €90.7trn of assets
Global asset managers oversaw €90.7trn of assets at the end of 2020, according to IPE's 2021 asset management study, which for the first time includes some of the largest Chinese asset managers.
After recouping the losses suffered during the March 2020 market crash, the largest global managers, excluding Chinese firms, saw their assets increase from €81.1trn to €85.1trn during the year, representing a 4.9% increase.
The rate of growth was significantly lower compared with 2019, when assets grew by 22.1%.
Assets managed on behalf of European institutional investors grew more strongly, recording a 7% increase during 2020.
As a result, European institutional assets grew from €11.4trn to €12.2trn at the end of 2020. This compares with a 11.7% increase during the previous year.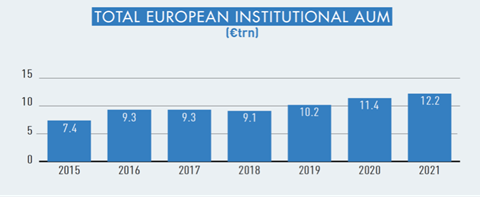 The ranking of the top 10 global managers was almost unchanged from last year. BlackRock retained the top spot with €7.1trn of AUM, with Vanguard, Fidelity, SSGA, Capital Group and JPMAM also keeping their positions.
Top 10 gobal managers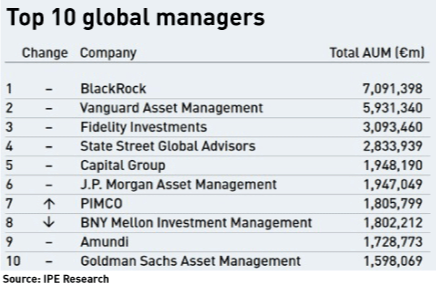 However, PIMCO switched places with BNY Mellon Investment Management, taking 7th place. The California-based outfit managed €1.805bn at the end of last year while BNY Mellon IM had AUM of €1.802bn.
Amundi and Goldman Sachs Asset Management retained 9th and 10th place, respectively.
The Top 10 ranking of the largest managers of European institutional assets also saw little change. The first six places were unchanged, with BlackRock topping the list again with €1.2trn of assets.
Top 10, European institutional business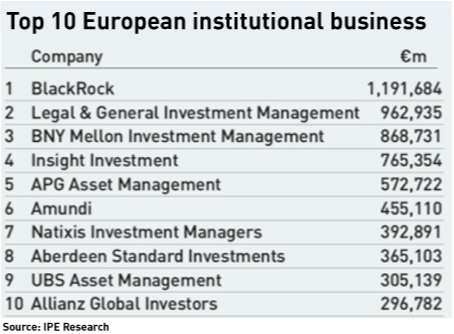 State Street Global Advisors (SSGA) dropped off the Top 10, while Natixis Investment Managers and Aberdeen Standard Investments joined the ranking in 7th and 8th place, respectively. Allianz dropped from 8th to 10th place.
The share of global AUM held by the top 10 managers fell by nearly two percentage points, from 34.7% to 32.8%. Despite an increase in AUM of nearly €1trn, the share of global assets held by BlackRock fell from 8.3% to 7.8%.
China debut
For the first time, this year's Top 500 Asset Managers study includes Chinese asset managers, to reflect the rising influence of China as an asset management market.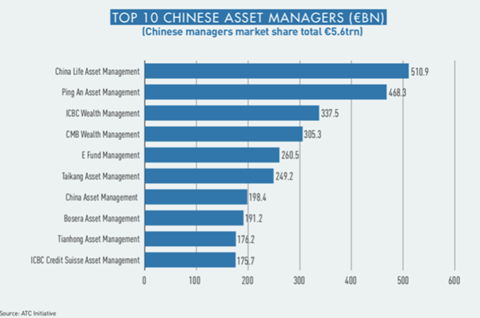 The Chinese managers surveyed by ATC Initiative for IPE added €5.6trn of assets to the global aggregate, representing 6.2% of the total.
This year's Top 500 Asset Management Study also reported a large increase in the amount of assets invested according to ESG principles. Reporting managers saw assets in this category grow by more than 30% to over €12trn.
To read the digital edition of IPE's latest magazine click here.