ATP was named European Pension Fund of the Year at last night's IPE Awards dinner in Copenhagen.
The top prize was one of six awards scooped by Denmark's biggest pension fund, including for Long-Term Investment Strategy, another gold award category.
The DKK934bn (€105bn) investor was also recognised for its work in emerging markets and innovation.
Accepting the main award,Bo Foged (pictured far right above) said, "I didn't expect to receive this prize, but thank you to the jury and the audience and also the team at ATP who worked really hard this year."

The UK's Merseyside Pension Fund was also a multiple winner, taking home awards for climate-related risk management, credit and alternatives, and factor investing.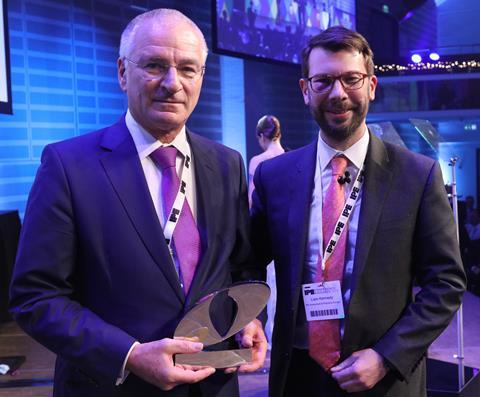 The Outstanding Industry Contribution award went to Christian Böhm, APK Pensionskasse's chief executive officer.
A veteran of the Austrian and European pension fund industry, Böhm has led APK since its foundation in 1989. He is deputy chairman of the Austrian association of pension funds and sits on the board of PensionsEurope.
"The ultimate goal for us to achieve is to deliver the best for our beneficiaries. Thank you very much," he said upon receiving his award.
Böhm has engaged on matters such as EIOPA's pension fund stress tests and the European Commission's proposed regulation on sustainable investment.
APG won Pension Fund Achievement of the Year for its GroeiFabriek (Growth Factory), which is the Dutch investor's response to the need to innovate. It aims to stimulate the growth of new ideas from within APG and to build an ecosystem of continuous innovation.
The 2019 IPE Awards attracted more than 430 entries across 43 categories, with participating investors having €2trn in assets under management. Ninety one judges were involved in assessing entries.
| Gold Awards | |
| --- | --- |
| European Pension Fund of the Year | ATP |
| Outstanding Industry Contribution | Christian Böhm |
| Pension Fund Achievement of the Year | APG GroeiFabriek |
| Long-Term Investment Strategy | ATP |
| Silver Awards | |
| --- | --- |
| Corporate Pension Fund | Pensions Caixa 30 |
| Multi-Employer/Professional Pension Fund | Alecta |
| Public Pension Fund | Bundespensionskasse |
| Small Pension Fund | Stichting Calpam-Pensioenfonds |
| National / Sovereign Fund | ATP |
| Active Management | Fjärde AP-fonden (AP4) |
| Passive Management | FRR |
| Bronze Awards | |
| --- | --- |
| Alternatives | Industriens Pension |
| Equities | BBVA Pensiones V and ERAFP |
| Fixed Income | Alecta |
| Country / Regional Awards | |
| --- | --- |
| Austria | APK Pensionskasse / APK Vorsorgekasse |
| Belgium | Pensioenfonds KBC |
| Central & Eastern Europe | Swedbank Pension Plan |
| Denmark | ATP and PensionDanmark |
| France | AG2R La Mondiale |
| Germany (bAV) | Telekom Pension Fund |
| Germany (Versorgungswerk) | Ärzteversorgung Westfalen-Lippe |
| Ireland | Accenture Defined Contribution Pension Plan |
| Italy | Fondo Pensione Laborfonds |
| Netherlands | Stichting Calpam-Pensioenfonds |
| Portugal | Ocidental Pensões |
| Small Countries | Almenni Pension Fund |
| Spain | Plan de Pensiones Nestlé |
| Sweden | Swedish Pensions Agency |
| Switzerland | CPEG, Caisse de prévoyance de l'Etat de Genève |
| United Kingdom | Pension Protection Fund |
| Themed Awards | |
| --- | --- |
| Climate Related Risk Management | Merseyside Pension Fund |
| Commodities | HVB Pension Fund |
| Credit & Alternatives | Merseyside Pension Fund |
| DC & Hybrid Strategies | Airbus |
| Emerging Markets | ATP |
| ESG | Church Commissioners for England |
| Factor Investing | Merseyside Pension Fund |
| In-house Investment Team | Fjärde AP-fonden (AP4) |
| Innovation | ATP |
| Pensions Governance & Administration | Pensions Caixa 30 |
| Portfolio Construction & Diversification | SEB Pension och Försäkring |
| Real Assets & Infrastructure | Bundespensionskasse |
| Real Estate | Church Commissioners for England |
| Risk Management | FRR |