Pension funds investing in the green economy should consider how they can help make the move away from fossil fuel-based energy generation a fair and just transition, according to former Ireland president and UN human rights commissioner Mary Robinson.
Addressing delegates in Prague at IPE's annual conference, she encouraged pension funds to invest in the green economy and back away from coal, but to be mindful of the individuals that could be hurt by these actions.
"I'm aware that we also need to remember those who worked in the coal industry and the other fossil fuel industries," she said.
Citing a recent announcement from the Italian government that it planned to exit coal power by 2025, Robinson said this move could require more than 20 coal power plants to be closed by then, which "will be very stark and dramatic for a lot of families".
"I don't know what the number is but it's real people, a real contribution that they've made," she said.
She encouraged European pension investors to think about a "just transition – how to have a fairer transition to where we need to get to".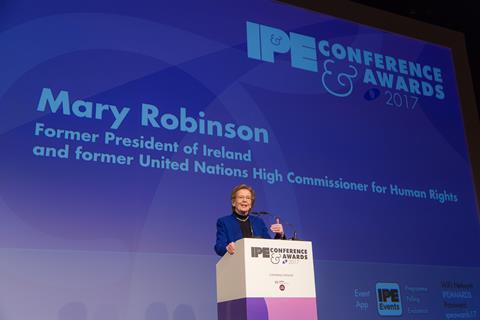 Robinson was asked by a delegate for a call to arms for pension investors as fiduciaries, whose "ability to invest how they might see fit, for example in clean energy, is somewhat restricted".
She also spoke about climate change and the implications of its impacts for political stability in Europe and other countries, touching upon the feelings of alienation in certain regions emanating from migration.
However, Robinson emphasised that her approach to climate change was a human rights-based one.
In concluding remarks she appealed to delegates to be "prisoners of hope", borrowing an expression from Archbishop Desmond Tutu – one she said she had made her personal philosophy.
"If you just describe how bad things are all the energy goes out of the room," she said. "And indeed any sense of how to cope."
Being a prisoner of hope meant being realistic about problems but also seeing hope things can change, she said.
"I believe that that hope for the world lies in that double framework of 2015," Robinson concluded. "In the [UN Sustainable Development Goals] and the Paris climate agreement.
"That is the sustainability of our world."