The UK government has pledged a "contingent liability" of £329m (€377m) to help the National Employment Savings Trust (NEST) qualify as a master trust under rules brought in last year.
Pensions minister Guy Opperman informed parliament yesterday that the guarantee was required to ensure NEST had sufficient financial backing to allow it to be wound up gradually if necessary "without putting these additional costs onto the scheme members".
In October last year, the Pensions Regulator (TPR) introduced stringent requirements for NEST and other auto-enrolment providers, including holding capital reserves and ensuring staff were "fit and proper".
Opperman said yesterday that TPR had suggested a "letter of comfort" from the government confirming that it would step in as financial backer of NEST if needed.
NEST did not hold capital reserves, Opperman said, as it was funded through a government loan. According to NEST Corporation's annual report for 2017-18, £622.7m was still outstanding as of 31 March last year.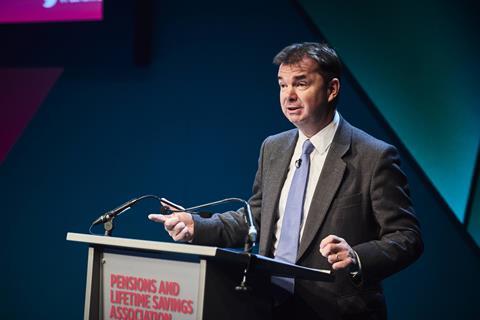 The minister said: "The letter confirms that, in the remote possibility of a triggering event occurring, government would fund NEST through to closure and meet any one-off associated closure costs."
NEST was set up in 2011 to help facilitate the UK's automatic enrolment regime. It now runs more than £3bn for roughly 6.5m members.
Private or public sector?
Darren Philp, head of policy at fellow master trust Smart Pension, highlighted that the guarantee had allowed NEST to avoid holding capital – as is required of all other master trusts in order to comply with the new rules. He argued that the government should decide whether NEST is a public sector body or a private sector provider.
"NEST cannot be allowed to unfairly leverage its privileged position, which will only stifle innovation and an effective market"

Darren Philp, Smart Pension
"While the news that NEST has got out of holding capital through a government guarantee doesn't come as a surprise, the government needs to give some serious thought about NEST's position in the market – is it a private market participant or is it part of government?" Philp said.
"NEST has been a good thing and has been central to the roll-out of auto-enrolment, and we applaud it for the role it has played to date. But it cannot be allowed to unfairly leverage its privileged position, which will only stifle innovation and an effective market.
"We've come a long way as an industry in recent times, but the time has now come for the government, NEST and the regulator to come clean about NEST's future role."
A spokesman for NEST told IPE the provider had been unable to establish capital reserves because of its outstanding loan from government. It had no intention of accessing the money pledged yesterday, he said.
NEST was on track to break even by 2027 and pay off its loan by 2039 "at no additional cost to the taxpayer" as part of a long-term self-financing plan, the spokesman said.
Mark Rowlands, NEST's director of customer experience, added in a statement: "We're playing a crucial role in delivering auto-enrolment, accepting any and every employer who wants to enrol their workers.
"We have a clear plan to repay our loan and are well on track to becoming a self-financing master trust, driving improvements and innovation across the industry and helping millions of people to enjoy a better retirement."
A spokesman for the Department for Work and Pensions emphasised that the letter of comfort did not signify additional state funding for NEST.
"It is an assurance from the government to enable it to meet one aspect of Master Trust Authorisation, ensuring that it continues to fulfil its public sector obligation," he said.
TPR has been approached for comment.
Smart Pension takes on £12.5m master trust
The new master trust rules are set to force a number of providers out of the market if they cannot meet the requirements.
This week, Smart Pension announced that it had struck a deal to take on the Corporate Pensions Trust (CPT), a £12.5m auto-enrolment vehicle set up by UK financial advisory firm Lighthouse Group.
CPT's trustee board decided against going through TPR's authorisation process and instead said it would recommend that its clients and members transfer to Smart Pension.
Smart Pension has established a partnership with Lighthouse that will involve the advisory firm using the Smart master trust as its preferred scheme for small and medium-sized business clients.
The transfer will take place once Smart Pension's master trust offering has been authorised by TPR.