Belgian pensions industry organisation PensioPlus is planning further action to enhance the sector's pioneering role as prime location for pan-European pension funds through the implementation of IORP II.
In a memorandum about the sector's future, it said it would focus on simplifying procedures for admittance and implementation for cross-border schemes as well as their fiscal treatment.
PensioPlus said it would also look into the barriers to migrating pension funds caused by double taxation treaties. The introduction of the financial transaction tax, for example, would be "the kiss of death" for pan-European pension funds, it said.
Citing figures from European supervisor EIOPA, the organisation said that Belgium was home to 14 cross-border schemes. This was expected to rise to 19. Ireland and the UK accommodated 26 and 19 cross-border pension funds, respectively.
Earlier this year, PensioPlus said it wanted to grow the industry's assets under management to €100bn by 2025 through expanding coverage and attracting more cross-border schemes.
Belgian schemes net 8.5% return in H1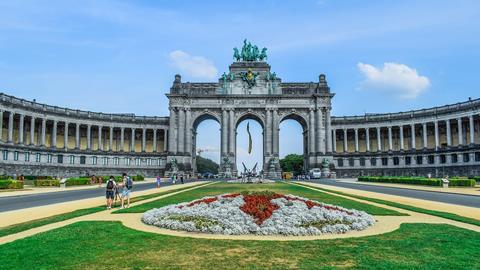 Meanwhile, PensioPlus' 201 member schemes posted an average investment return of almost 8.5% during the first six months of 2019.
The annualised historical return, adjusted for inflation, was more than 3.9% on average over the past 30 years, it said, attributing the results to a stable allocation of equity and fixed income.
At June-end, Belgian funds held an average of 39% in equity, 45% in fixed income, and 4% in property. Cash holdings totalled 4% of the combined pension assets of €46bn, while alternatives accounted for 7%.
The industry organisation highlighted that the search for yield in a low interest rate environment would increase the importance of alternative asset classes, including infrastructure and private equity, and would require greater risk management.
In order to find investable projects of sufficient scale locally, it advocated "organisational improvements" at the supply side.
"This would enable pension funds to take full social responsibility as long-term investors in the real economy," it said.