A recent report by PwC has found that trustees are among the lowest paid roles in pension scheme management despite growing responsibilities and increased regulation.
It is no surprise that the global pandemic and associated volatility in financial markets, together with increased pressure from The Pensions Regulator (TPR), has put more pension scheme trustees on the spot than ever before.
Yet PwC has found that pension funds typically pay less for trustees than for their actuarial and legal advisers, and in some cases less than their secretarial support. This is despite having responsibility for managing the challenges, risks and complexities associated with the £2trn (€2.3trn) of defined benefit (DB) pension liabilities in the UK, it said.
Average annual pay has increased across all roles, with the exception of board and committee members, which has seen a slight reduction since 2018. PwC's Trustee Pay Survey showed that, on average, the chair of a trustee board is paid £54,000 a year.
This is around 5% of the total annual cost of managing a typical DB pension scheme – excluding investment costs – and is less than 25% of the average pay of the chair of a major company board.
The average pay of a trustee who is not a board chair, but is likely to have additional responsibilities such as chairing a sub-committee, is £30,000 a year, the survey of 112 schemes revealed.
The most significant increase is in the pay of the chair of committee, in 2020 this was 60% higher than 2018, which could be indicative of the delegation of responsibilities from the board and therefore additional time commitment required.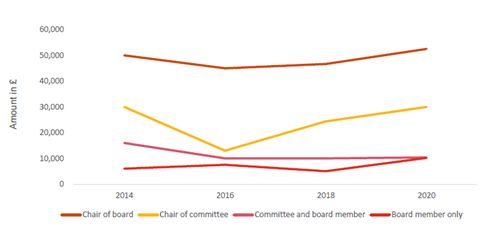 The survey also showed that trustee time commitment also steadily increased over the last decade, from an average of 17 days a year in 2010 to 26 days in 2020. Most of this time is spent performing trustee duties outside of regular meetings. This is often outside of normal working hours for company appointed trustees who are still in employment.
Peter Sparshott, head of pensions management consulting at PwC, said: "Huge additional pressure has been placed on trustees over the past year to preserve the continuity of service to members. With a number of new requirements underway or in the pipeline, such as benefit equalisation and pensions dashboards, we are expecting trustees to be busier than ever."
He added that at the end of such a difficult year "it is perhaps a good time to reflect on whether trustees are adequately rewarded for taking on this ever-growing list of responsibilities and challenges".
Board composition
Surprisingly, the proportion of boards with no independent trustees has increased to 21%, compared to 10% in 2016, however the vast majority of boards continues to have at least one independent trustee, with circa 45% having an independent who usually takes on the role of the chair.
PwC has seen the trend continue for boards to only employ one or two independent trustees, with a low percentage (15%) having more than two. There are several outliers, however these relate to boards that predominantly, if not completely, consist of independent trustees, and they tend to be for large multi-employer and workplace pension schemes.
To read the digital edition of IPE's latest magazine click here.