BT is to close its defined benefit (DB) pension scheme and work with the Communication Workers Union (CWU) to set up a hybrid scheme, the two parties have announced.
The agreement follows more than 10 months of "exceptionally tough" discussions, according to the CWU.
BT has pledged to set up a new hybrid pension plan with both DB and defined contribution (DC) elements. The new plan will be made available to members of the £49.3bn (€56bn) BT Pension Scheme (BTPS), which the company intends to close to future accrual from 31 May.
This timetable was subject to the trustees being able to resolve "some complex administration-related issues", the company said.
The hybrid pension plan is due to be set up later this year following further discussions between BT and the CWU.
In the meantime, current BTPS members will be moved to the company's existing DC plan, the BT Retirement Saving Scheme (BTRSS). Ex-BTPS members will be entitled to additional transition payments for up to 10 years.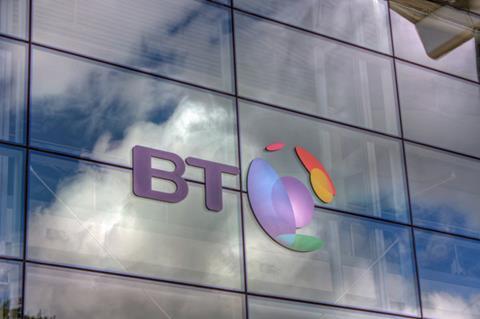 The DC scheme, which has been the main scheme for new joiners since 2009 and covers the majority of current BT employees, will also be upgraded for the benefit of existing members. Proposed changes include increasing BT's standard maximum contribution rate to 10% for all members "and introducing other improvements", the telecoms giant said in a statement.
Andy Kerr, CWU deputy general secretary, said: "The new hybrid pension is an innovative solution that will share future risk between BT and our members.
"In the defined contribution scheme, all of our BTRSS members paying core contributions will be getting an increase in company payments – as well as key allowances counting towards [the] pension for the first time. This is clearly a major improvement."
The agreement affects around 20,000 non-management employees. In February the company agreed a deal with another trade union, Prospect, to close the DB scheme to around 10,000 managers, who will join the BTRSS.
The proposals have been put to a vote, and CWU has recommended that BTPS members accept the agreement.
Melrose pension statements 'misleading', says GKN
Melrose Industries has offered to pay up to £1bn into the pension schemes of GKN as part of its bid to take over the UK-listed engineering group.
However, GKN's board has accused the bidder of making "misleading" comments about the state of the pension schemes in connection with its offer.
Melrose yesterday said it had made a formal proposal to the GKN pension scheme trustees, which it claimed represented almost twice the value of the deficit reduction package offered by GKN as part of a proposed sale of its driveline business to Dana.
GKN today said Melrose's comments were "misleading as to the true status of GKN's pension obligations". It reiterated the elements of a binding agreement it reached with the UK pension trustees, which was conditional on Melrose's offer lapsing or being withdrawn.
Earlier this month Melrose wrote to the UK parliament's Business, Energy and Industrial Strategy Committee, on request of the politicians, to clarify its intentions with respect to GKN and its pension schemes.
It had previously said it would invest some £150m in GKN's UK pension schemes within 12 months of acquisition, and has defended itself as having "an excellent track record of managing pension schemes".
UUK speeds up expert panel creation
UK universities are accelerating the creation of a panel of independent experts to review the valuation processes for the Universities Superannuation Scheme (USS).
Universities UK (UUK), which represents UK higher education bodies, and its main union, the UCU, agreed last week to form the panel as part of mediation talks to inform future valuations. However, UUK said it was to be introduced immediately in order to address concerns over the current valuation.
The panel will consider issues of methodology, assumptions and monitoring. It will have an independent chair, involve academics and pension professionals, and will liaise with both USS and the Pensions Regulator. The terms of reference and panel composition are to be announced shortly.
Last week's mediation talks led to UUK and UCU reaching an agreement over the future of the country's largest pension scheme, but union branches rejected the agreement. UCU yesterday said it had "an incredibly strong mandate" for further strikes.
Green light for south-west LGPS funds' pooling efforts
Brunel Pension Partnership, the £28bn asset pooling vehicle for 10 local government pension schemes (LGPS), has received regulatory authorisation.
This paves the way for it to provide investment management services for its LGPS shareholders ahead of the government's pooling deadline next month.
Dawn Turner, CEO of Brunel, said: "This is an important milestone for us and means we are on schedule to deliver the benefits of LGPS investment pooling for our clients."
The LGPS pools have to be up and running by the start of April, although one – the £43.7bn Border to Coast Pensions Partnership – has agreed a three-month extension.
Four of the eight have been authorised by the Financial Conduct Authority (FCA), and while two (ACCESS and Wales Pensions Partnersip) have appointed external providers to set up pooled funds.