Exchange-traded funds (ETFs), asset performance and Brexit-related transfers have all played a part in boosting assets managed in Ireland to a record €2.64trn, according to the Central Bank of Ireland (CBI).
The Irish Funds Industry Association this week hosted its 21st Annual Global Funds Conference in Dublin, where it reported a 9% increase in assets during the first quarter of 2019.
Q1 net sales of Irish funds hit €32.3bn, the vast majority of which (€25.7bn) came from sales of ETFs. Adding the effect of positive market performance, Ireland-based ETFs grew by 17% in the first three months of the year, with combined assets hitting €429.8bn.
According to the association, the CBI authorised 1,117 new funds in 2018, its highest ever annual total, while the number of new management companies registered since the start of 2018 rose by 29%.
"This reflects ongoing Brexit contingency planning, but also a more general trend as global managers choose Ireland as their EU base and launchpad to provide solutions to a range of European and global clients," the association said in a press release.
According to research by New Financial published earlier this year, Dublin was the most popular choice of location among nearly 300 companies to have selected an EU base as part of Brexit contingency planning. The research showed 100 firms selected the Irish capital – including at least 20 major asset managers.
Fund management and administration companies employ 16,000 people across Ireland and contribute €837m in tax to the Irish Exchequer, according to a recent report from economic consultancy Indecon.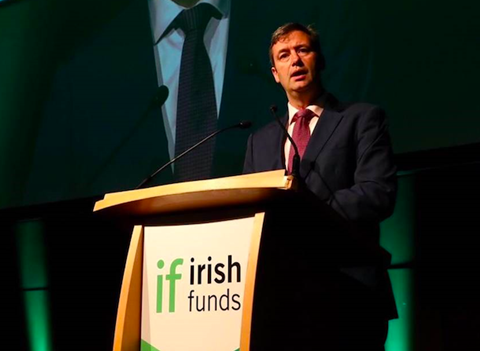 Michael D'Arcy, the Irish minister for financial services and insurance told conference delegates that the government wanted to put Ireland "at the forefront of policy developments at EU level".
He introduced a new strategy for the fund management industry, promising new initiatives to ensure companies and the government were "fully equipped" to make Ireland a leader in the industry. This included a new Investment Limited Partnership Bill to improve the country's private equity and unlisted assets sectors.
Pat Lardner, chief executive of the Irish Funds Industry Association, said the bill would "provide a further boost in Irish funds industry efforts to establish Ireland as a European domicile for funds that want to invest across infrastructure, renewables and private equity".