The CHF13.7bn (€12.6bn) pension fund for the canton of Geneva is debating re-integrating into its investment portfolio previously excluded sectors to allow it to adopt a larger active ownership role, according to its CIO Grégoire Haenni.
CPEG, which is a member of $35trn investor engagement group Climate Action 100+, currently has nine sector exclusions, such as armament, nuclear power generation, pornography, tobacco, coal, and gambling.
Addressing delegates at IPE's annual conference in Copenhagen earlier this month, Haenni argued that exclusions did not have any impact on corporate behaviour.
By way of example, he said that despite institutional investors excluding tobacco holdings from their portfolios since the 1990s, the industry had been outperforming the wider consumer staples sector and the S&P 500 for some time until governments moved to ban smoking in public.
"Consumer behaviour has a real impact on the company," said Haenni. "We believe engaging with corporates leads to better results than just excluding them from our investment universe."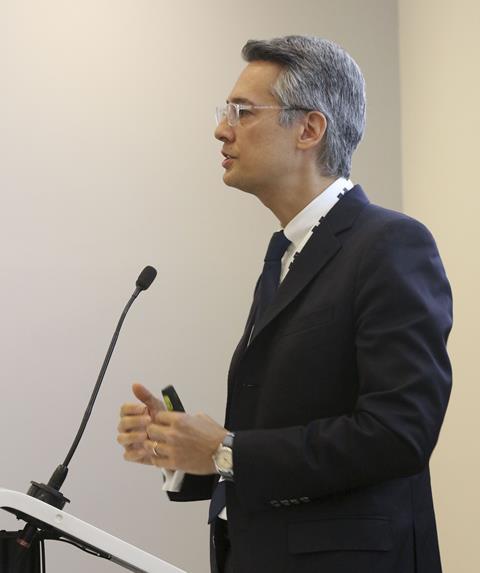 The CIO argued that exclusions and positive filters, such as best-in-class approaches, allowed investors to express values and present a better image, but restricted the potential for engaging with companies and had implications for expected returns and deviations from benchmarks – in addition to not having any impact on corporate behaviour.
CPEG currently deviated 5.5% from its benchmark as a result of its sector exclusions, said Haenni, and was facing pressure from beneficiaries to exclude fossil fuels and potentially other sectors.
"If we go down that path we will start to deviate a lot from our benchmarks, so that's a major issue," he said.
Trade-offs
Haenni explained that CPEG wanted to engage more with companies, combining this with "norms-based exclusions" that would be made on a case-by-case basis according to a company's activity and willingness to engage.
The CIO summed up the trade-offs involved with pursuing this route as follows: "You have concrete results, but it's difficult to comply with your values, you're not going to look good because you keep those companies in your portfolio and you need to team up with other investors."
Asked by panel moderator Mats Andersson, vice chair of the Global Challenges Foundation and former CEO of Sweden's AP4, to provide examples of successful outcomes of engagement, Haenni brought up the subject of gun manufacturers and how a group of nuns in the US – the Sisters of Mercy – had decided to reinvest in armaments and had productively engaged with gunmakers on safety features.
"I think this is something we want to imitate," said Haenni.
Asked by a delegate why no investors were building up case law in the face of the apparent ineffectiveness of shareholder voting, Haenni said taking companies to court was "another tool to consider". He suggested that, in the US for example, investors should team up with actors like NGOs to put pressure on corporates via class actions.
Separately, the CIO said investors could also drive change at companies as bondholders, giving the example of mining company Glencore.
Earlier this year the company agreed to align its business and investments with the goals of the Paris Agreement, a move that followed engagement with a group of investors that included Kempen as bondholder.