Legal & General Investment Management's defined contribution (DC) business has set out short-term carbon emissions intensity reduction targets to hit in support of the longer-term aim of cutting portfolio emissions to net-zero by 2050 at the latest.
The targets apply to the auto-enrolment default investment options used by L&G Mastertrust and L&G's wider Workplace DC business, which includes single employer trusts and contract-based pension schemes.
The targets are focussed on portfolios' listed equity and publicly-traded corporate debt exposure, and are designed to reflect the beginning of alignment with the Paris Agreement goal of limiting warming to 1.5°C above pre-industrial levels.
For the L&G Target Date Funds, the target for the growth phase is to reduce weighted average carbon emissions intensity by at least 50% by 2025 and at least 65% by 2030. All targets are relative to end-2019 data.
The setting of interim targets comes after LGIM in December pledged to work with clients to increase the proportion of assets managed under a net-zero target. This is one of the commitments made by asset managers if they sign up to the Net Zero Asset Managers Initiative, of which LGIM is a founding signatory.
Emma Douglas, head of DC at LGIM, said the provider wanted to state the overall net-zero by 2050 target for the auto-enrolment default funds, but that it was aware there was a danger this could be an "empty statement".
"2050 is a long time away so it is important to be able to set shorter-term goals that we can be judged by," she told IPE. "We worked closely with the investment teams to make sure we could come up with some concrete goals for reduction in carbon emissions."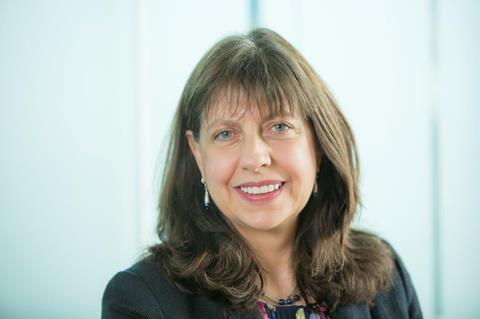 Douglas said LGIM considered the interim targets it has set to be challenging. "We know how crucial an issue this is, so I don't think now is the time to shy away from having some fairly tough targets."
She indicated that hitting the targets would involve some asset allocation changes, with the asset manager looking at farmland and timber for its multi-asset funds, for example. However, active ownership would play a key role, too.
The number of climate change-related engagements carried out by LGIM grew by 63% year-on-year in 2020, according to an update about its active ownership released today.
Last year it expanded its "Climate Impact Pledge" engagement programme to a larger number of companies, with voting and divestment sanctions applied across more funds for companies falling short of its minimum standards.
Dermot Courtier, independent chair of the L&G Mastertrust and Independent Governance Committee, said the multi-employer scheme was "delighted L&G has followed up on their commitment to net zero within the default funds".
"These timelines and milestones will further support us in overseeing the progress to net zero on behalf of our scheme members and we look forward to collaborating with L&G as we progress on this important journey," he said.
L&G Target Date Funds
Weighted average carbon emissions intensity
2025
2030
Growth phase
At least -50%
At least -65%
Approaching retirement
At least -40%
At least -60%
At retirement
At least -30%
At least -45%
| L&G Multi-Asset Funds | | |
| --- | --- | --- |
| Weighted average carbon emissions intensity | 2025 | 2030 |
| Multi-Asset Fund | At least -20% | At least -40% |
| Future World Multi-Asset Fund | At least -30% | At least -55% |
Looking for IPE's latest magazine? Read the digital edition here.