Norway's biggest pension fund Kommunal Landspensjonskasse (KLP) is selling its 10% stake in Oslo Børs VPS, which runs the Oslo Stock Exchange, to European stock market operator Euronext. It said it would gain NOK693m (€71m) from the sale.
The fund said it was at a cost of NOK158 per share, plus a fixed interest payment of NOK3.21 per share.
KLP reported that the Norwegian Ministry of Finance had authorised Euronext to become the sole owner of Oslo Børs, ending a battle to take over the operator that has been running for several months. The battle followed US operator Nasdaq withdrawing its bid, losing its chance to control all the stock exchanges in the Nordic region.
Sverre Thornes, KLP chief executive, said: "We believe the best solution for the Oslo Stock Exchange right now is for Euronext, as the owner, to be allowed to run the company as they see fit.
"We have therefore decided to sell our shares with the assurance that Euronext will keep its promises to further develop the Oslo Stock Exchange and VPS and ensure that the exchange will continue to be an attractive marketplace for small and medium-sized enterprises."
Lobby group backs rule change for long-term investing
Norwegian lobby group Finance Norway has backed regulatory changes that would enable more equity investment in guaranteed pension products, allowing pension funds to take more risk and focus on long-term returns.
The changes, proposed by the government-appointed Capital Access Committee would alleviate the current situation, in which guaranteed pension products were forced to invest towards short-term goals.
Stefi Kierulf Prytz, life insurance and pensions director for Finance Norway, said: "Today's regulations for guaranteed pension products mean that customers' pension funds must be managed short-term and with low risk, which leads to low expected returns and loss of purchasing power, as well as lack of profitability and competition in the market."
Finance Norway said the committee's proposed changes would be beneficial to the country's pension pots over the long term, increasing returns and giving funds more choice about investing responsibly in, for example, environmentally focused companies.
The Norwegian financial regulator said in its latest risk report that current high debt levels and rising property prices posed a significant risk to financial stability in Norway.
It said the level of debt applied to both Norwegian companies and to homeowners, with the rise in debt having continually outweighed the growth in income over recent years.
The Capital Access Committee was led by Aksel Mjøs, associate professor at Bergen's NHH Norwegian School of Economics.
PKA backs landmark Dutch green bond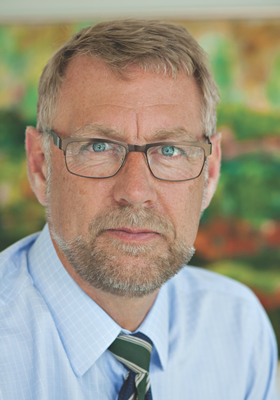 Denmark's PKA, the DKK275bn (€36.8bn) pension fund administrator, has revealed that it invested DKK1bn in last month's green bond launch by the Dutch government – the first green bond from an AAA-rated sovereign.
PKA's chief executive Peter Damgaard Jensen said the fact his organisation was already a major green investor gave it priority in the heavily over-subscribed €5.9bn issue.
"It is a recognition of the great work we do to ensure that our members' money is invested responsibly in green projects such as wind and solar energy, which makes it possible for us to continue expanding our focus on climate investments," he said.