GSAM, PTL, Electricity Pensions Trustee Limited, EIOPA, Candriam, WHEB AM, TPR, Dalriada, ITS, HSBC AM
Goldman Sachs Asset Management (GSAM) – The asset manager has poached Jen Sisson from the UK's Financial Reporting Council (FRC) for the role of head of stewardship for the EMEA region.
Sisson worked at the FRC for four years, most recently as deputy director of stakeholder engagement and corporate affairs, following a year as chief of staff. She has been responsible for coordinating the FRC's outreach with the global investment community, listed company leadership teams and board members across all areas of the regulator's scope.
Sisson led policy outreach on ESG, audit and reporting matters, including the creation of the 2020 UK Stewardship Code and the 2018 UK Corporate Governance Code.
Before working at the FRC, Sisson was part of PwC's global investor engagement team. She also acted as part of the secretariat for the Corporate Reporting Users Forum (CRUF). She will join GSAM in June 2021.
Fadi Abuali, CEO of Goldman Sachs Asset Management International, said Sisson's expertise "will be of great benefit to our clients as we continue our pioneering engagement efforts on critical topics such as climate transition, diversity and inclusive growth".
---
PTL/Electricity Pensions Trustee Limited – Independent trustee and governance services provider PTL announced that client director Melanie Cusack has been appointed as independent chair of Electricity Pensions Trustee Limited (EPTL).
The eight-strong board of EPTL oversees the 26 groups of the Electricity Supply Pension Scheme (ESPS), one of the largest pension schemes in the UK, with some 173,000 members and £43bn in assets.
As independent chair, Cusack will bring leadership skills and a strategic perspective to the board, as it seeks to balance the pensions challenges affecting the diverse employers participating in the scheme.
---
EIOPA – Petra Hielkema, of Dutch central bank DNB, is set to become the new chair of the EU's occupational pensions supervisor after the European Parliament voted in favour of her appointment. The vote in plenary follows a recommendation from the parliamentary economic and monetary affairs committee. The EU Council has already said it would confirm her as chairperson if approved by the European Parliament.
---
Candriam – Paulo Salazar, senior emerging markets equity analyst and fund manager has been named co-head of the firm's emerging markets equities team as Jan Boudewijns, an industry veteran and the team's leader for 18 years, plans to retire after a career of almost 40 years in finance, and more than 35 years at Candriam.
Salazar and Boudewijns will run the team together until the first half of 2022 to facilitate a smooth transition of duties leading up to Boudewijns' retirement. They will both report into chief investment officer Vincent Hamelink.
Meanwhile, Philip Screve, deputy head of emerging markets equities, who joined the team in 1997, will continue to oversee the emerging markets equity strategy. Lamine Saidi, senior fund manager, who joined the team in 2005, will continue to manage the Sustainable Emerging Markets Equity strategy.
---
WHEB Asset Management – Jayne Sutcliffe is to take over from Geoff Hall as non-executive chair at the positive impact investor, subject to regulatory approval.
Sutcliffe co-founded Regent Pacific Group in the early 1990s, before founding Charlemagne Capital. Over more than 16 years as CEO, she grew the latter to become a market leading investment boutique with more than £7bn of assets under management. WHEB said that while at Charlemagne Sutcliffe was also heavily involved in the integration of environmental, social and governance (ESG) analysis into the investment process, and was an early advocate for ESG in emerging markets investment.
Hall is retiring after 10 years of service at WHEB. During that time its assets grew from £20m to over £1.2bn today.
---
The Pensions Regulator (TPR) – Sarah Smart has been announced as the new permanent chair of TPR. She has been serving as the interim chair since April, and is due to be made the permanent chair on 1 June 2021, following a recent Work and Pensions Select Committee pre-appointment hearing.
Guy Opperman, minister for pensions, said: "The chair is a vital part of The Pensions Regulator, providing effective oversight of this high-profile organisation and engaging and building positive relationships with senior stakeholders. This is a challenging but rewarding role, and I am delighted that after serving as interim chair, Sarah has now been officially appointed as the permanent chair."
---
Dalriada Trustees – Amanda Banister has been hired as a senior professional trustee at the independent provider of professional trustee services. She joins from global law firm DWF LLP, where she was a partner in its pensions practice. Banister also spent three years in-house at the Pension Protection Fund.
Daldriada noted that over her career so far Banister has managed complex restructurings and represented clients at the Court of Appeal and Court of Justice of the EU.
---
Independent Trustee Services (ITS) – Paul Bourdon has been appointed as trustee director at ITS. A qualified actuary, he was most recently client director lead at Insight Investment Management, directly responsible for over 30 pension trustee boards. Before that he worked at Credit Suisse Asset Management, Threadneedle Investment Management and HSBC Markets.
---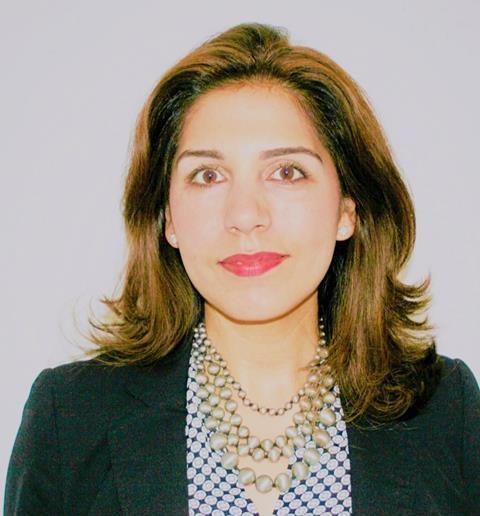 HSBC Asset Management – Jasvir Virk has been appointed as business development director for HSBC Asset Management's UK institutional team. In this new role and based in London, Virk joined on 10 May and reports to Maria Ryan, head of institutional sales UK, MENA and Nordics.
With more than 20 years of experience in the industry, Virk will be responsible for broadening and deepening the firm's relationships with UK institutional investors, with a particular focus on UK pension schemes.
Virk joins from BlackRock, where she was a senior director and a member of the UK institutional business responsible for client relationship management and business development. Prior to that, she was head of client relations Europe at PineBridge Investments, working with both institutional and intermediary clients across Europe. She has also held several roles at Goldman Sachs Asset Management.
Virk's appointment follows that of Paul Griffiths as global head of institutional business earlier this month.
Additionally, the asset manager has expanded its direct lending team with the appointment of Tom Boden as an associate director. The firm announced the launch of its direct lending capability earlier this year as part of its ambition to grow its alternative investments platform.
Boden was most recently an associate director at Permira Debt Managers where he worked for seven years in its direct lending team. He trained at KPMG, where he qualified as a chartered accountant.
To read the digital edition of IPE's latest magazine click here.