The Principles for Responsible Investment (PRI) has launched a consultation to try to identify ways of overcoming challenges to incorporating environmental, social and governance (ESG) factors and active ownership into passive investing.
The organisation hopes to obtain feedback from asset owners, investment managers, and index providers.
According to Toby Belsom, director of investment practices at the PRI, the growth of ESG in passive investing was facing two challenges. One category of challenges had to do with technical issues surrounding ESG data quality and index construction, while the other was about how investors could ensure they remained active owners while following a passive strategy.
For example, passive asset managers may not be incentivised to recall any shares on loan to vote at annual general meetings because of the bigger difference stock lending makes in terms of income for passive funds compared with active funds.
The PRI has already published research and case studies focusing on the integration of ESG into passive, quantitative and smart-beta strategies, but said it was launching the consultation because it was interested in "developing market thinking in this area due to its rapid development over the last couple of years and the increasing importance of passive strategies".
Signatories had registered significant interest on the topic, according to the PRI.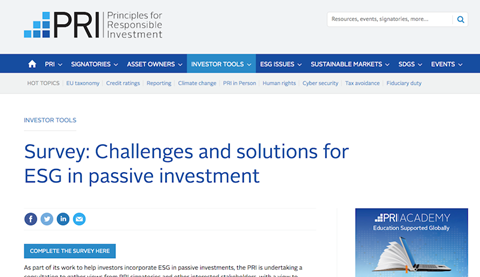 The organisation intends to collect feedback via a short survey and events. The survey is not restricted to PRI signatories; questions are also being asked on the organisation's "collaboration forum", which is only for signatories. The consultation process will run until the end of October.
The survey asks respondents to rank challenges, in order of significance, to ESG incorporation as well as active ownership. The challenges named include consistency of corporate data, complexity of benchmarks and indices, and unintended portfolio skews. For the active ownership question, challenges named include lack of research and resourcing, "free-riding", and divestment.
The survey also asks what impact the EU's taxonomy of environmentally sustainable activities will have on the passive investment market. In a discussion paper, the PRI itself said the full implications of the taxonomy would not become clear for some time, but it was likely to influence the construction of ESG indices and passive funds.