British Airways has said it stands to save £80m (€91.6m) a year following the decision to close two of its pension schemes.
As of 31 March, the defined benefit (DB) New Airways Pension Scheme (NAPS) was closed to future accrual and the defined contribution (DC) British Airways Retirement Plan was closed to future contributions.
Both schemes have been replaced by a flexible benefits scheme, as parent company International Airlines Group (IAG) announced in December.
In a stock exchange announcement yesterday, IAG said the liabilities of the NAPS would be cut by roughly £770m as a result of the closure and related changes.
The company agreed with unions to pay "transition costs" to NAPS members amounting to £169m. Despite this, IAG said it was expecting a net "exceptional gain" of £598m in relation to the changes.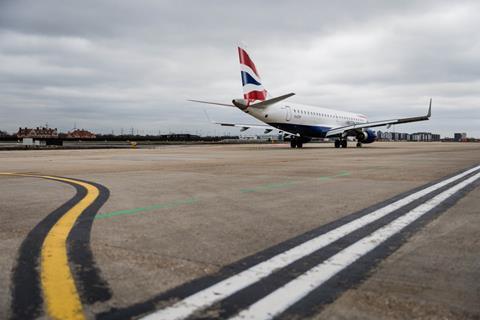 The new DC scheme grants members an automatic 5% employer contribution without the need for an employee contribution. BA's contribution escalates incrementally to 11% as employees increase their payments into the scheme.
Steve Gunning, British Airways' chief financial officer, said: "This is an important step in managing the risk in NAPS and ensuring the airline has an appropriate cost-base for the future.
"The new arrangements include a market-competitive defined contribution scheme and will stop the build-up of further liabilities and risk in NAPS. This will help to improve the security of existing benefits."
The People's Pension takes on £20m master trust
The UK's largest private sector DC master trust has taken over responsibility for a rival scheme, Your Workplace Pension (YWP).
In a statement, The People's Pension said it had taken on 70 employers and more than 8,700 members.
Roy Porter, group director of sales and marketing at The People's Pension, said: "Across the industry, master trust consolidation like this looks set to increase following the new legislation and The People's Pension is well-placed to support that.
"There are a large number of master trusts in the market but following the new regulation it's unrealistic to think they'll all be able to continue. Improved regulation will ensure that more members can easily be moved to good quality workplace pension schemes where the employer no longer wants to operate its own pension scheme."
The UK government recently announced new rules for master trusts, which had previously been subject to little regulation or oversight. These included an authorisation regime that could cost master trusts up to £67,000 to complete.
In addition, the government said strategists and trustees working on master trusts would be subject to suitability tests to judge individuals' knowledge, understanding and experience, while scheme providers would be required to have sufficient resources to cover the costs of setting up and running a master trust and to resolve events that "could have a significant impact on a master trust scheme's ability to operate".
The People's Pension was set up in 2011 as a multi-employer scheme to help small companies with their auto-enrolment requirements. It has more than 3m members, according to its website.
Recruitment firm charged with computer misuse after 'illegal opt-outs'
The Pensions Regulator (TPR) is to prosecute a recruitment firm and seven of its employees for allegedly illegally opting employees out of the company pension scheme.
In a statement yesterday TPR accused Workchain of logging onto its online pension system using employees' personal details to terminate their membership of the scheme.
Employees must opt out of workplace pension schemes themselves, TPR said.
The company and the individuals were charged with "unauthorised access to a computer programme [sic]". They have been summoned to appear in Derby Magistrates' Court on 7 June.
The charge carries a maximum sentence of six months and/or an unlimited fine, according to TPR. However, the sentence could be as much as two years if the case goes to the UK's Crown Court.
New British Steel scheme opens for business
The trustee board of the new British Steel Pension Scheme (BSPS) has made its first payment to more than 80,000 members since it was restructured. It has also launched a new website.
The announcement last week marked the end of a three-year struggle for the future of UK steelworkers' pensions, which began in March 2015 when the sponsoring employer, Tata Steel, announced it would close the DB scheme to future accrual.
It then threatened to pull out of the UK altogether if it was unable to cut the cost of funding the scheme, leading to complex negotiations between the company, trustees, TPR and the Pension Protection Fund (PPF).
Allan Johnston, who chaired the old scheme (now in the PPF's assessment period) and leads the new scheme's trustee board, said the past 18 months had been "challenging".
He added: "It is pleasing that around 100,000 old scheme members took the time to choose the outcome that was best for them based on their personal circumstances. The new BSPS offers benefits that for most members of the old scheme are the same or better than the PPF and over 80,000 of those members took the opportunity to switch to the new scheme."