Investment management employers should talk openly about themselves to encourage a positive work environment for lesbian, gay, bisexual and transgender (LGBT+) staff, according to the Investment Association (IA).
The UK asset management trade body set out a number of actions to help companies recruit, support and retain LGBT+ staff, in a new report published this week.
"For young people, starting their professional lives can be a steep and challenging learning curve," the IA said. "One judgment they will make is whether to share their non-work life with colleagues.
"Whether LGBT+ or not, employers should set a positive example by talking openly about themselves and their life outside work, and take an interest if someone says they are LGBT+."
The '+' after the LGBT acronym is intended to capture the other ways in which people can define their gender and sexuality, such as asexual, intersex or questioning.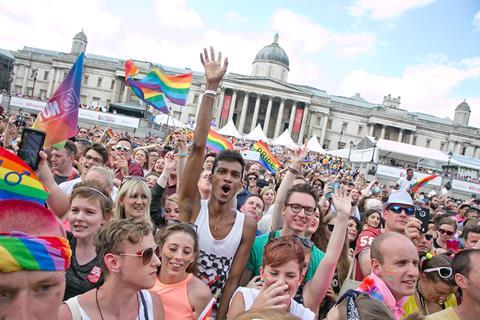 Published just a few days before the Pride in London march this weekend, the report – titled Do you remember the first time? – drew on the experiences of LGBT+ professionals who were asked about their first time coming out in the investment management industry and what encouraged them to come out.
In the parade this weekend firms from across the investment management industry will for the first time march together under an IA banner, the association said.
Other recommendations in the IA's report included that companies should "hardwire" diversity into the recruitment process by being "clear and unambiguous" in job adverts about welcoming LGBT+ applicants specifically, and take LGBT+ people seriously at work by ensuring they have policies on the issues affecting them, including a dedicated one for trans inclusion.
Employers should also publicly pledge to honour LGBT+ inclusion as part of company culture, the association said.
Chris Cummings, chief executive of the IA, said: "Lesbian, gay, bisexual and transgender people make an immeasurable contribution to society, the City and investment management. Their lived experiences enrich our industry and their voices, opinions and experiences help investment performance, widen horizons and discourage groupthink.
"Our new report showcases some investment managers' pioneering work in LGBT+ inclusion and encouraging LGBT+ people to feel welcome and celebrate being unashamedly themselves at work."
The report builds on experiences and observations conveyed in 'Bringing Our Whole Selves to Work', a report the IA published last year on the LGBT+ experience in asset management.
The association is also working to improve representation of black people in the industry, with fewer than 1% of asset managers in the UK identifying as black, African or Caribbean.
Last month Willis Towers Watson's Thinking Ahead institute said that diversity and inclusion would be the main factor in shaping working environments in the asset management sector in years to come.
Do you know these terms?
Ally: An ally is somebody who does not identify as LGBT+ but supports equal civil rights, gender equality, LGBT+ social movements, and challenges homophobia and transphobia.
Cisgender: Cisgender is a term for people who identify as the gender they were assigned at birth.
Intersectionality: This term considers various characteristics, such as sexual orientation, gender and ethnicity do not exist separately from each other but are interwoven.
Transgender: A term for an individual who does not identify with the gender they were assigned at birth.