The UK government has stated that the EU must act to ensure a smooth transition for financial services as it prepares to exit the bloc in March 2019.
The government published a series of documents this morning outlining the implications of the UK exiting the EU without an agreement – the "no deal" scenario.
It insisted that the publications did not mean such an outcome was more likely – "rather it is about ensuring our plans are in place in the unlikely scenario that they need to be relied upon".
However, in its financial services document the UK said it was up to the EU to act to facilitate a smooth transition for European clients of UK-based companies.
"Unless the EU acts to maintain continuity, then UK financial services firms passporting into the EEA [European Economic Area] will lose the ability to do that at the point of exit," the government stated.
"This may have implications for their ability to meet contractual obligations with EEA-based clients, where to do so without EEA permissions would breach relevant member state rules and any applicable EU rules that apply to third countries."
However, the government indicated that it was prepared to agree arrangements with the EU to allow EEA entities to delegate asset management to the UK under its "third country" rules.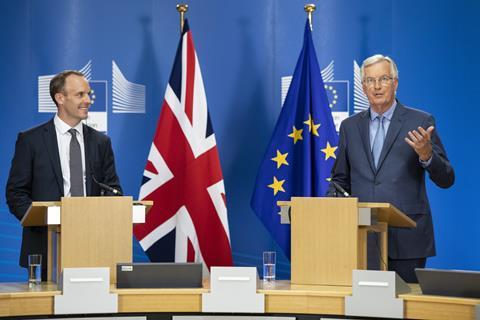 According to the latest data from the Investment Association, the UK's asset management trade body, overseas investors – including EU-based clients – held £78.5bn (€87bn) in UK-based funds at the end of June 2018.
The UK regulator, the Financial Conduct Authority (FCA), recently set out its plans for a "temporary permissions regime" for EU-based providers serving UK clients, allowing them to continue to operate even if no withdrawal agreement is reached.
Chris Cummings, chief executive of the Investment Association, said: "Asset managers have been drawing up contingency plans to ensure they can continue to serve savers and investors in the UK and the EU.
"The point at which firms will have to activate their irreversible plans is drawing ever closer and failure to reach a deal is in no one's interest.
"The most important step to protect our industry, and more importantly, the savings of millions of people across Europe, is for a comprehensive deal to be completed by March 2019."
The UK's financial services document is available here.