The value of sterling relative to the dollar and euro has taken a hammering in recent weeks as the UK's new prime minister Boris Johnson has vowed to take the country out of the EU on 31 October regardless of whether or not a withdrawal agreement has been passed by parliament.
The currency was not helped today after the Office for National Statistics (ONS) this morning reported that UK GDP fell by 0.2% in the second quarter of 2019. The provisional figures marked the first quarterly contraction in seven years.
As of 11am UK time today, sterling was trading at $1.21, according to XE, down 18% compared with $1.48 on 23 June 2016, the day of the EU membership referendum. In the same period sterling fell by a similar degree against the euro, and is currently trading at €1.08.
Andy Scott, associate director at advisory firm JCRA, said sterling would likely fall further if the UK was to slip into recession.
"With the EU so far refusing to reopen the withdrawal agreement and Boris Johnson's government having committed to leaving at the end of October, a no-deal exit is looking increasingly more likely," he added. "We continue to advise clients to prepare for the worst – sharp moves in both directions – while hoping that pragmatism prevails and avoids a disorderly exit that will hurt both sides."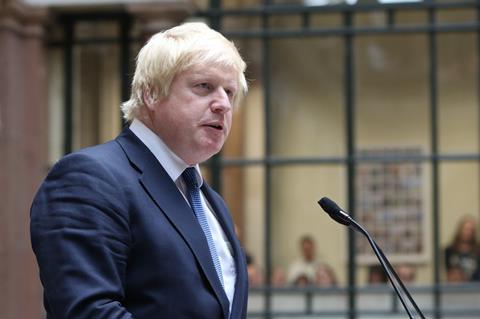 However, asset manager DWS has argued that the recent decline of sterling "has not been all that dramatic" when viewed in a longer-term context.
"The sabre-rattling by Boris Johnson and his team about the UK leaving the EU without a deal has taken a toll, but a relatively modest one," DWS said in an investment update published today.
"Partly, that is because plenty of risk has already been priced in following the referendum. And of course, things could get quite a bit worse for the pound in the coming weeks."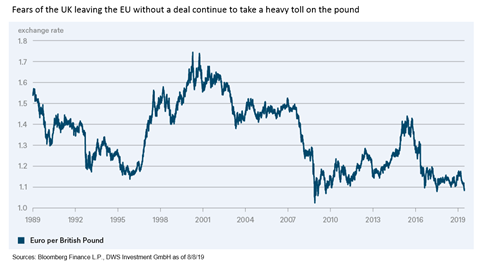 The UK parliament is currently on its summer recess and will reconvene on 3 September, and until then "plenty of more or less plausible scenarios will no doubt be mooted" by Johnson and pro-Brexit politicians, DWS said.
"In our own view, the risk of a disorderly, 'no-deal' Brexit probably peaked in spring," the €662bn asset manager said.
"Stopping 'no deal' won't be easy, but it can certainly be done, if parliament is determined. And in sharp contrast to the situation in spring, there now is plenty of evidence parliament will have both the means and the will to do so."