Specialist impact fund manager LeapFrog Investments has raised $700m (€623m) for its latest private equity fund, targeting healthcare and financial services investments in Africa and Asia.
The company claimed the amount raised was a record for a private equity fund run by a dedicated impact investment manager. Investors included Dutch pension fund SBZ and asset manager Kempen, as well as a number of insurance companies, international development funds and foundations.
Andrew Kuper, founder and CEO of LeapFrog Investments, said: "Today's announcement marks an unprecedented level of commitment to independent impact investment managers, with a new fund backed by diverse best-in-class institutional investors.
"It also marks an important moment for responsible private equity. As our third fund and largest fund, it is a decisive demonstration that meeting the real needs of under-served people is great business."
The LeapFrog fund has already invested in financial firms WorldRemit and NeoGrowth, and pharmaceuticals companies Goodlife Pharmacy, Pyramid Pharma and Ascent Meditech.
"We want to substantially increase impact investing for a sustainable world – so we are delighted to be supporting the largest equity fund by a dedicated impact manager in emerging markets," said
Philippe Le Houérou, CEO of International Finance Corporation, a lead investor in the fund, said the World Bank subsidiary wanted to "substantially increase impact investing for a sustainable world". He added: "We want more and more investors who are looking to do well while also doing good."
Further reading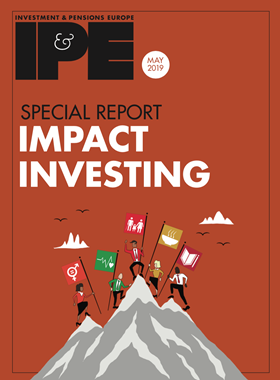 Social Impact Finance: Bonds to help Asia's 'missing middle' women
Rural women entrepreneurs in India will this year, for the first time, access loans generated through a social impact bond, reports Elisabeth Jeffries
Public Markets: Hard to pin down
A mishmash of blurred definitions and terminology borrowed from ESG and sustainability is marring the progress of impact investing in public markets
Impact investing: Tricky, but worthwhile
According to the International Finance Corporation, in the past three years there has been substantial growth in the use of the word 'impact' as a brand for mutual funds and exchange-traded funds, and the number of impact-branded funds in public markets has grown from 13 to 62 since 2008
Varma backs human rights initiative
Finnish pensions insurer Varma has signed up to the Workforce Disclosure Initiative (WDI), a global campaign for better disclosure of company workforce management practices and improved job standards.
The WDI has more than 120 signatories from international investors with over $13trn in assets under management, including Nordic bank Nordea and Danish pension fund PKA.
Hanna Kaskela, director of responsible investment at Varma, said: "Human rights violations in companies or their subcontracting chains are similarly serious in terms of reputation risk as environmental factors.
"Consumers want to buy responsibly produced goods and pay attention in their purchasing decisions to how companies treat employees in the production chain."
Varma added that the WDI provided its signatories with significant and comparable data on their own and supply chain employees.