PensionDanmark was named best European Pension Fund for the second year in a row at last night's IPE Awards dinner in Dublin.
The top prize was one of five awards scooped by the DKK239.7bn (€32.1bn) pension provider – including the Outstanding Industry Contribution Award for CEO Torben Möger Pedersen.
PensionDanmark was also recognised for its work in Credit & Alternatives and for Innovation – it won the latter prize in Prague last year as well – and was named Denmark's top pension provider.
Accepting the awards, Pedersen highlighted the COP-24 climate conference taking place in Poland this week and urged attendees to address the "opportunities and challenges" posed by climate change.
Sweden's AP4 was also a multiple winner, taking home awards for Long-Term Investment Strategy, Active Management, Portfolio Construction & Diversification, and Equities – the latter jointly with Nordea Investments. It was also named Sweden's top pension fund.
ERAFP's outgoing CEO Philippe Desfossés was presented with the Pension Fund Achievement of the Year award in recognition of growth of the French scheme's responsible investment and climate risk management strategies.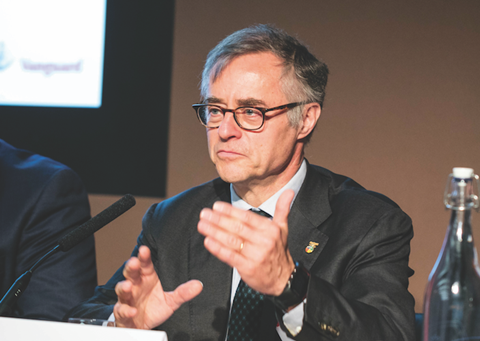 Desfossés has stepped down from the €30bn French civil servants' pension after nearly 10 years in charge. Laurent Galzy was named as his successor last week.
ERAFP was also recognised as France's top pension fund, and took home the award for best Emerging Markets strategy.
Fellow French investor FRR collected the awards for Sovereign Reserve Fund, Passive Management and Climate Related Risk Management.
Here are the winners in full:
Gold Awards
European Pension Fund of the Year
PensionDanmark
Outstanding Industry Contribution
Torben Möger Pedersen
Pension Fund Achievement of the Year
Philippe Desfossés
Long-Term Investment Strategy
AP4
Silver Awards
Corporate Pension Fund
Stichting Calpam-Pensioenfonds
Multi-Employer/Professional Pension Fund
Industriens Pension
Public Pension Fund
Church Commissioners for England
Small Pension Fund
Pensioenfonds UZ Gent – UGent OFP
Sovereign Reserve Fund
FRR
Active Management
AP4
Passive Management
FRR
Bronze Awards
Alternatives
PFA Pension
Equities
AP4, Nordea Investments
Fixed Income
Ärzteversorgung Westfalen-Lippe
Country Awards

Austria

(Pensionskasse)

VBV-Pensionskasse
Austria (Vorsorgekasse)
APK Vorsorgekasse
Belgium
Pensioenfonds UZ Gent – UGent OFP
Central & Eastern Europe
INVL Mezzo II 53+ pension fund
Denmark
PensionDanmark
France
ERAFP
Germany (bAV)
Bosch Pensionsfonds
Germany (Versorgungswerk)
Bayerische Versorgungskammer
Ireland
Construction Workers' Pension Scheme
Italy
FP Nazionale BCC/CRA, FP Personale Gruppo BNL/BNP Paribas Italia
Netherlands
Stichting Pensioenfonds PGB
Portugal
Fundo de Pensões Horizonte Ações
Small Countries
Frjálsi Pension Fund
Spain (corporate scheme)
DuPont Pension Plan
Spain (multi-employer scheme)
Geroa Pentsioak EPSV
Sweden
AP4
Switzerland
Caisse de prévoyance de l'Etat de Genève (CPEG)
United Kingdom
NEST (National Employment Savings Trust)
Themed Awards
Climate Related Risk Management
FRR
Credit Alternatives
PensionDanmark
DC & Hybrid Strategies
Amundi Pension Fund
Emerging Markets
ERAFP
ESG
APG
Factor Investing
HVB Pension Fund
In-house Investment Team
Tesco Pension Scheme
Innovation
PensionDanmark
Pensions Governance & Administration
Pensionskasse SBB
Portfolio Construction & Diversification
AP4
Real Assets & Infrastructure
Ärzteversorgung Westfalen-Lippe
Real Estate
MN
Risk Management
Amonis