The European Commission's new high-level expert group (HLEG) on pensions is to focus in particular on issues such as coverage, contribution levels, and gender inequality matters, according to PensionsEurope's Matti Leppälä.
Speaking at IPE's conference in Dublin yesterday, the secretary general and CEO of PensionsEurope said that the expert group would also would assess what Europe could do for new forms of work not yet covered by traditional pension funds, as well as the issue of cross-border pensions.
Leppälä was appointed in July as the member of the advisory body representing pension funds.
The HLEG started operating in September, and its membership includes representatives of insurers and academics. It has been tasked with producing policy recommendations for occupational pensions and third pillar systems, and will advise the Commission after next year's elections.
The expert group – established in the wake of the introduction of the European pensions directive IORP II – replaced the much bigger Pensions Forum, representing EU member states and stakeholders.
Leppälä said that the expert group was to produce an interim report in April and a final version at the end of 2019, but added that it was too early to say anything about its content.
Delegated acts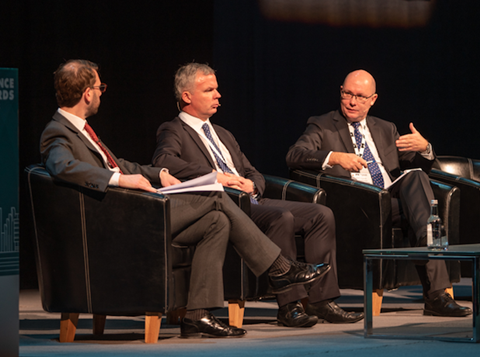 When asked by Liam Kennedy, IPE's editorial director, about PensionEurope's resistance against the Commission's proposal to introduce delegated acts for its sustainable finance plan, he argued that it would be much better to leave powers to individual member states.
"We haven't adopted delegated acts in IORP II either and we don't need to harmonise," he said.
He argued that the proposals put forward by the Commission could enable the introduction of requirements similar to solvency rules for insurers.
"Some of our members saw this as a potential for harmonising through the back door, through management requirements that would have the same effect," Leppälä said.
PensionEurope's CEO also said his organisation would further develop cashflow analyses for next year's stress testing by European supervisor EIOPA.
He underlined that EIOPA's plan – to also include a qualitative and a quantitative assessment for ESG – still had to be agreed on.
Also during the interview, Jerry Moriarty, chief executive of the Irish Association of Pension Funds, said Ireland should not be complacent on pensions reform despite having one of the youngest populations in Europe on average.
He said that the Irish government had issued a comprehensive "roadmap" for reform, addressing the state pension and gender issues as well as the introduction of master trusts aimed at consolidation and auto-enrolment for increased coverage.
The Irish government's plan has targeted a 14% pension contribution introduced in stages, shared between government (2%), employers (6%) and workers (6%).
According to Moriarty, less than half of the Irish population had pension provisions at the moment.